Sony's animated Spider-Man movie could have a very interesting lead character, while Marvel's new Spidey cartoon recruits two comic book webslingers. A new DC TV show is coming, and we'll know more soon. Plus, Michael Fassbender talks Alien: Covenant, and new footage from Beauty and The Beast. To me, my spoilers!


Thor: Ragnarok
A synopsis released through D23, Disney's official fan club, officially confirms that Doctor Strange will appear in the movie
Thor: Ragnarok in November brings together Thor, the Hulk, and Doctor Strange to face off against intergalactic baddies both familiar and new.
While we've heard rumblings about Doctor Strange's presence in Ragnarok for a while—and of course, his own movie's post credit scene teased future interactions between the sorcerer and Thor. But his name being lobbed in here along Thor and Hulk like this seems to imply that Strange has much more than just a minor cameo role in the movie. [Coming Soon]
---
Animated Spider-Man (Movie)
Comic Book Movie spotted a since-removed a casting call Backstage.com for a Sony Animation movie codenamed Cabin Fever that could possibly be the animated Spider-Man feature, including two characters named "Terrence" and "Pete" who sound an awful lot like they could be casting calls for Ultimate Spider-Man Miles Morales and his best friend Ganke.
"Terrence" is described as "a young African-American/Puerto Rican teen from Brooklyn; he is new to this suburban school and now feeling out of place, overwhelmed, pressured with new responsibilities, and dealing with puberty; while trying to fit in he must do his best to stay out of trouble; along the way in developing his identity he's losing old friends but now making a new one, Pete." Meanwhile, "Pete" is described as, "a young, slightly geeky, Asian-American teen; he's smart, sweet, and encouraging; although very unlike any of the friends Terrence had in his old Brooklyn neighborhood, Pete proves to be a good fit for Terrence making good decisions."
The movie could turn out to be a different project altogether, so keep this firmly in the speculation category for now.
---
Alien: Covenant
Michael Fassbender discusses the new android he plays in the film, Walter, and how he differs from David.
I think Walter's a real different kettle of fish. David was definitely a work-in-progress, somewhat of a prototype I suppose. The elements of him that were the human elements I think people found a little disturbing, so Walter's more of a straightforward robot. Pretty logical, much more of a servant without the ego.
---
Deadpool 2
Leslie Jones is joining the queue for "people who would very much like to be in Deadpool 2".
---
Wonder Woman
Patty Jenkins talks about the importance of the film's World War I setting.
My approach was to focus on telling the story of mechanized war and how that would look to a god visiting our world for the first time. I wanted the audience to understand the horrors that a war on this scale makes possible and how shocking that would be to someone who comes with a strong sense of honor and justice. She doesn't realize yet just how senselessly dark the world can be.
[Empire]
---
Transformers: The Last Knight
Producer Lorenzo di Bonvaventura discusses how the film will set up the Bumblebee spinoff film:
... two or three things in this movie that really have a meaningful aspect in terms of it, and then there's a bunch of little things. But we're not making this movie to set up the other movies.
[Collider]
---
Resident Evil: The Final Chapter
Here's a new featurette on Ruby Rose's character, Abigail.
---
Beauty and the Beast 
Belle falls for the Beast, and has a conversation with a hairbrush, in two new TV spots.


---
DC TV
Surprise! Geoff Johns says a new DC TV show is on the way, and will be announced soon.
---
Animated Spider-Man (TV Show)
Leaked merchandise for Marvel's new animated Spidey series confirms the show will feature Peter teaming up with Spider-Gwen and Miles Morales—and that Venom will play a role in the story. [Comic Book Movie]
---
Arrow
Wendy Mericle teases where Oliver's relationship with new flame Susan will go in the second half of the season.
They're going to go 'all in' [on the relationship] at some point, for sure. But one of the things that's interesting about [Susan] is that they do have a genuine relationship — she really does care about Oliver, and vice versa — and yet she has been on this track of trying to find out who he is and what he's up to. And not just as the mayor, but beyond that. [Susan] is going to be asking some hard questions, and that's going to put both of them into physically and emotionally dangerous territory.
[TV Line]
---
The Librarians
The Librarians band together to save Shangri-La in the new synopsis for "And the Fatal Separation".
When the Monkey King's sacred homeland of Shangri-La is taken over a by a ruthless collector of magical artifacts, the balance of the Universe is put in jeopardy. forcing all the Librarians to come together and help save the imperiled land... at what could be a terrible cost.
---
The Flash
Minor DC character Plunder makes his DC TV debut, and HR is on a segway, in new pictures from "Borrowing Problems From The Past". Find more at the link. [Infinite Earths]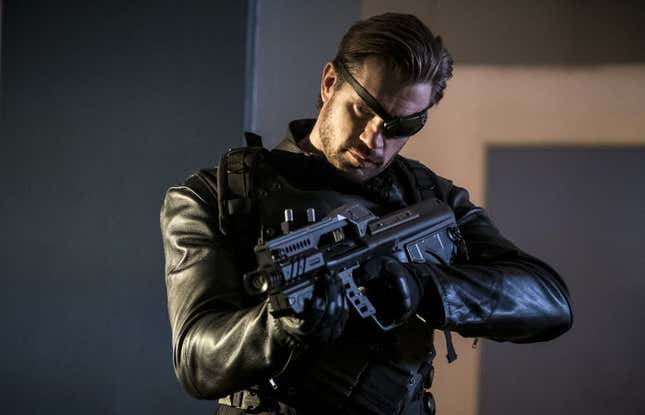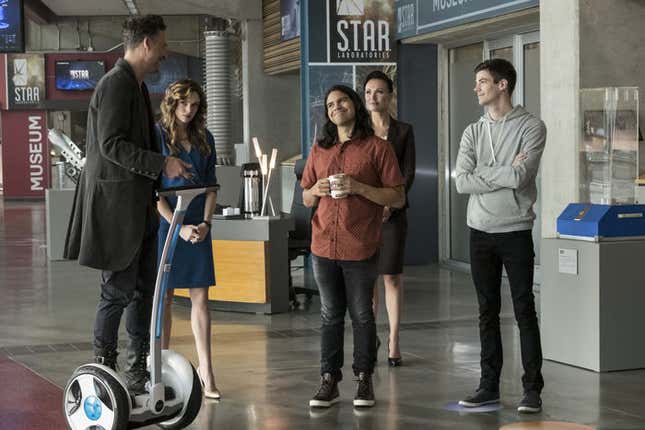 ---
Supernatural

Finally, here's some new pictures from episode 9 of the season, "First Blood". Once again, you can find more at the link. [All About TV News]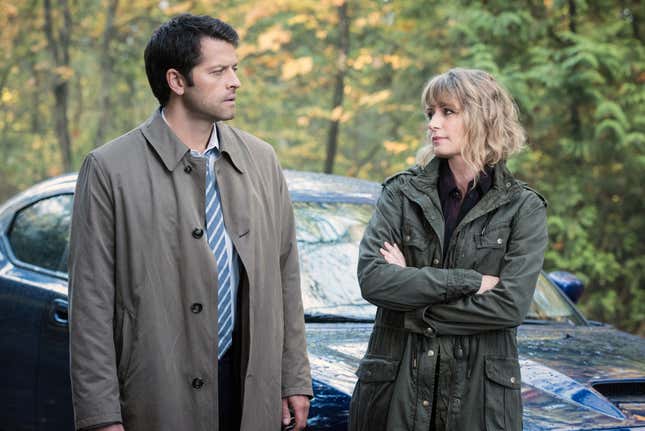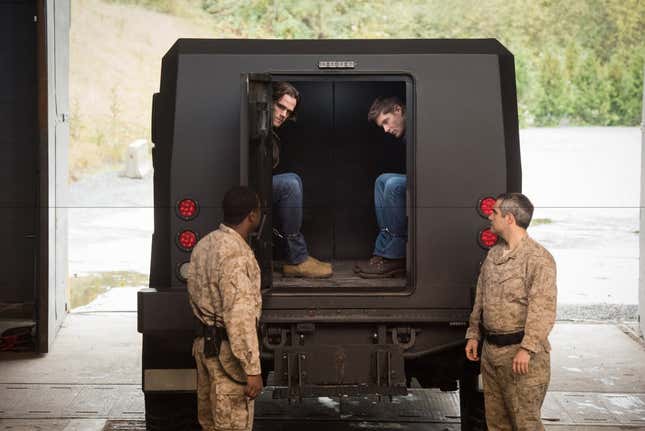 ---
Additional reporting by Gordon Jackson. Banner art by Jim Cooke.