See a Mad Max: Fury Road featurette, and discover who's shooting Star Wars: Episode VIII. Red Dwarf is officially back! Vince Gilligan won't return for the X-Files revival. The Flash teases even more Grodd action. Plus, what's to come on Vampire Diaries, Agents of SHIELD and Gotham. Spoilers Get!
Top image: Doctor Who.

Star Wars: Episode VIII
Steven Yedlin will be the cinematographer for Rian Johnson's sequel. [Variety]
---
Mad Max: Fury Road
A new featurette focuses on George Miller's vision for the film. [First Showing]

---
Red Dwarf
It's official — Red Dwarf is returning for seasons 11 and 12, airing in 2016 and 2017 respectively on the Dave channel in the UK, which has been repeating the classic series in recent years. Craig Charles announced he was leaving the soap opera Coronation Street to resume his role as Lister:
I have had an absolutely fantastic 10 years on Coronation Street and I will be very sad to leave. Lloyd has become a huge part of my life and I have made some amazing friends with whom I will always keep in touch.

"But I feel I owe it to my colleagues on Red Dwarf to join them in filming the new series and finding out what is in store for Lister and the others. I would love to return to Coronation Street at some point in the future.
[The Independent, The Express]
---
Penny Dreadful
John Logan talks about the the thematic threadlines for Season 2:
When I was planning out the whole series, ten years ago really, just years and years of working on it, I knew that for the second season, I wanted a human antagonist. I wanted a character who could speak. Because the first season the antagonists are the vampires, who are brooding figures, mute figures of evil. But I knew I wanted someone who could speak, and in a very particular relationship with Vanessa Ives. And so I created the character of Evelyn Poole, who Helen McCrory plays. And you meet her in two episodes of Season One, and then she steps up in Season Two to become a true antagonist. Not only to Vanessa, but to everyone around her. And so this season, what I told the cast is, this season, they're not the hunters. They're the hunted. And so that creates pressure, and it's pressure psychologically, supernaturally, theologically, and physically, to all of them. So there's a sense of mounting anxiety, I think.
G/O Media may get a commission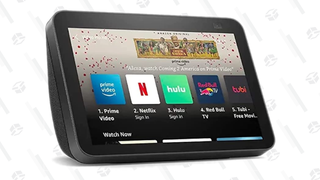 [CBR]
Here's a synopsis for "The Nightcomers":
In a flashback episode, Vanessa (Eva Green) meets The Cut-Wife (special guest star Patti LuPone), who teaches her how to harness her powers. Isolated at her lonely cottage on the moors, The Cut-Wife quickly realizes the extent of Vanessa's powers and warns her of the danger that lies ahead and the evil that pursues her.
---
X-Files
In an Ask Me Anything on Reddit, Vince Gilligan confirmed that he is not writing for the new series:
Unfortunately I won't be writing for the reboot, because my work on Better Call Saul will keep me from doing that. I'm very sad to miss out, because I would love to have a hand in The X-Files reboot. The X-Files was my second favorite job ever, a close second to Breaking Bad and Better Call Saul, and I'd love to be a part of it. Rest assured, I will be watching it as a fan. I can't wait to see it.
---
Doctor Who
The BBC have released a new video confirming that Jemma Redgrave will return in Episodes 7 and 8 as Kate Stewart. [Blogtor Who]
---
Jonathan Strange & Mr. Norrell
Here's a new synopsis for the BBC adaptation's first episode, which will broadcast in two weeks:
1806. Magic once existed in England, but it has long faded - that is until the reclusive Mr Norrell is discovered in Yorkshire.

He comes to London to offer the government his services as a magician - but rising politician Sir Walter Pole refuses to align himself with such a disrespectable art as magic. Disconsolate at his lack of success, Mr Norrell is set to return home, until news comes of the death of Sir Walter's sickly, and wealthy, fiancée. Mr Norrell makes a dangerous pact with a mysterious Gentleman to restore her to life, proving magic respectable and establishing himself as the greatest magician in the land.Meanwhile, the charming and dissolute Jonathan Strange, more interested in drinking wine and winning the hand of the beautiful Arabella than reading dusty magical books, discovers that he too has magical powers.
---
Mayday
Imperative Entertainment has optioned the recently released comic book about a drug addict screenwriter and a bartender trying to stop a satanic cult from bringing about Armageddon. [THR]
---
Shadowhunters
Alberto Rosende and Emeraude Toubia join the cast as Simon and Isabelle Lightwood. Simon is described as an "accounting student by day, [who] spends his free time performing in a band. His loyalty and feelings for Clary are tested as he fights alongside her on an epic journey", while Isabelle is "an exotic-looking, model-beautiful Shadowhunter" who fights with a whip. [Spoiler TV]
---
The Leftovers
Kevin Carroll, Jovan Adepo and Darius McCrary join the cast for season 2. Carroll and Adepo play Father and Son John and Michael Murphy, while McCrary will play a recurring guest role as Isaac Rayney, a local palm reader. [TV Line]

---
The Flash
Here's a brief synopsis for the season finale, "Fast Enough":
"Fast Enough" — EPIC SEASON FINALE; VICTOR GARBER AND ROBBIE AMELL GUEST STAR — Wells (Tom Cavanagh) presents Barry (Grant Gustin) with a life-changing choice. Dr. Martin Stein (guest star Victor Garber) and Ronnie Raymond (guest star Robbie Amell) return to help the S.T.A.R. Labs team with this final fight.
[CBR]
Here's the comic preview for "Grodd Lives":
And here's an extended promo for the episode, including more footage of Grodd in action.
---
iZombie
Here's a press release for "Mr. Berserk":
STEVEN WEBER ("MURDER IN THE FIRST" "CHASING LIFE") GUEST STARS - Liv (Rose McIver) and Clive (Malcolm Goodwin) investigate the murder of a journalist working on a story linking psychotic episodes in a small number of consumers to the energy drink Max Rager. Liv goes straight to the top at Max Rager HQ and questions the man in charge, Vaughn Du Clark (guest star Steven Weber). Meanwhile, Ravi (Rahul Kohli) tries to help Major (Robert Buckley) who continues to believe he's going crazy.
---
Supernatural

And here's one for the season finale, "My Brother's Keeper":
SUPERNATURAL SEASON FINALE - Dean (Jensen Ackles) makes a shocking decision regarding the Mark of Cain that would change not only his life, but Sam's (Jared Padaleck) too. Meanwhile, Crowley (Mark Sheppard) and Rowena (guest star Ruth Connell) face off and Castiel (Misha Collins) gets caught in the middle.
---
Agents Of SHIELD
Simmons has a secret to hide and Lincoln finds himself concerned for Afterlife's safety in this clip from "Scars". [Spoiler TV]
---
The Vampire Diaries

TV Guide has a first look at the season finale:
---
The Originals
Here's a few promo pictures from tonight's episode, "Fire with Fire". [Buddy TV]
---
Gotham
Finally, Jim decides to defend the hospitalised Falcone in this clip from the finale, "All Happy Families Are Alike". [TV Guide]
---
Additional reporting by Abhimanyu Das and Charlie Jane Anders.