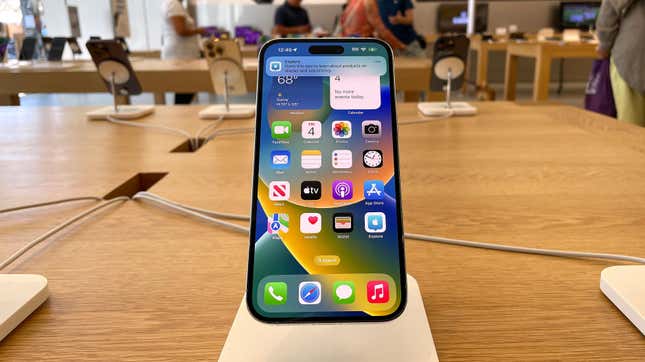 After years of dominating the cell phone market, one thing has become clear to Apple: Things on the smartphone front might be slowing down. The tech corporation has acknowledged a dip in sales in the U.S. ahead of the release of the iPhone 15.
Is USB-C Finally Coming To iPhone?
Bloomberg reports that Apple cited a slowdown in the smartphone market after revealing stagnating iPhone sales on an earnings call last Thursday. CEO Tim Cook claimed on the call that smartphone sales fell 2% quarter over quarter, while Bloomberg reports that sales of the iPhone reportedly fell 2.4% last quarter, citing Wall Street analysts. The outlet notes that Apple has seen rough patches in iPhone sales before, but rarely a marked decline.
Apple CFO Luca Maestri said on the call that the decline was primarily driven by U.S. consumer reluctance, "because the smartphone market has been in a decline for the last couple of quarters in the United States."
Apple did not immediately return Gizmodo's request for comment.
While Apple may be facing a dip in iPhone sales worldwide, Maestri was quick to point out on the call that emerging markets like India, Indonesia, Mexico, Philippines, Poland, Saudi Arabia, Turkey, and the UAE were seeing better performance. In the same vein, Apple isn't particularly worried about the slump in smartphone sales, as Cook revealed a revenue record of $1 billion in profit from paid subscriptions last quarter.
The sluggish smartphone market comes as Apple gears up to release the highly-anticipated iPhone 15 this autumn. While nothing is confirmed just yet, industry rumors says that the iPhone 15 could push the screen even further to the edges of the device while also integrating a Dynamic Island. The phone may also get a camera overhaul, with a 48-megapixel camera—frequently a feature only on pro models—coming to the base model of the iPhone 15.