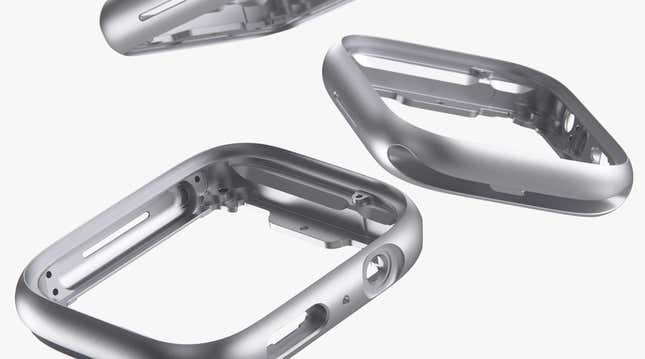 On Tuesday, Apple announced what it's calling its first-ever carbon-neutral products during its Wanderlust event this Tuesday.
Prime Day Ain't That 'Green'
Apple explained that it was able to reduce emissions from materials and transportation in production by having suppliers switch to renewable energy. The company also announced that it would no longer use leather in its new bands for Apple Watches, or for phone cases due to the high carbon footprint from the cattle industry. Instead, the company is using a material made from almost 70% recycled content that it's calling FineWoven.
Their sustainability message came with a skit in which Apple employees and CEO Tim Cook explained to Octavia Spencer, who plays Mother Nature, that the company is on track for all of its products to be carbon neutral by 2030.
But it turns out that having an entirely carbon-neutral product depends on the combination of items purchased. "Select case and band combinations of Apple Watch Series 9, Apple Watch Ultra™ 2, and Apple Watch SE® are Apple's first-ever carbon neutral products," a press release about the products explained. It's great that a multinational business is working on lowering its emissions, but major corporations need to be held to higher standards that go beyond buying the right combination of things. Apple's large target is carbon neutrality by 2030—that should be the most important metric that we judge the company by.
On one end, Apple is definitely moving in the right direction to reach that goal. According to data from the company's 2023 sustainability report, Apple produced about 20.6 million metric tons of carbon dioxide in 2022. Just half a decade earlier in 2018, the company produced 25.2 metric tons of carbon dioxide. The company has also paired lowering overall emissions with carbon credit programs that remove CO2 from the atmosphere by restoring grassland and wetland environments worldwide. "Only after Apple steeply cuts product emissions, will the company apply high-quality carbon credits from nature-based projects for emissions that cannot yet be avoided or reduced with existing solutions," Apple said in a statement.
According to the United States Geological Survey, wetlands are actually an amazing tool for carbon sequestration. Restoring and protecting these wetlands from erosion and vegetation loss could boost natural sequestration methods. However, these projects that Apple is investing in need to be permanent in order to claim that the project did remove carbon emissions from the atmosphere, according to the Natural Resources Defense Council.
Apple is also working on developing AI tools that could rival options like OpenAI or ChatGPT, Bloomberg reported in July. If developed and widely used, chatbot tools could increase Apple's water usage. Recent data found that other major tech companies have used alarming amounts of water to cool data centers. Data from Microsoft's latest sustainability report outlined that the software giant's water usage spiked by more than a third between 2021 and 2022 as the company heavily invested in its AI capabilities and planned for new AI-related data centers. It also takes up a lot of energy to train machine-learning models. A report released this April by the Stanford Institute for Human-Centered Artificial Intelligence outlined how the energy needed to train models like OpenAI's GPT-3 is enough to power an average home in the U.S. for hundreds of years.
Apple has put a lot of action behind making its products and operations increasingly sustainable. But companies often switch up their tactics or decide to delay sustainability deadlines. Everyone from consumers to watchdogs has to keep an eye out on corporations, well after a company releases a well-worded press release about lowering the emissions created by products.
Want more climate and environment stories? Check out Earther's guides to decarbonizing your home, divesting from fossil fuels, packing a disaster go bag, and overcoming climate dread. And don't miss our coverage of the latest IPCC climate report, the future of carbon dioxide removal, and the invasive plants you should rip to shreds.