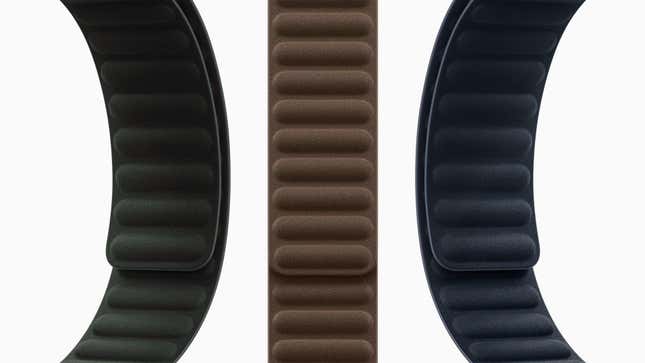 Apple on Tuesday announced it would no longer use leather in its new cases for iPhones, bands for Apples Watches, or other accessories due to the material's outsized carbon footprint. Instead, Apple said it will transition to relying on "FineWoven," a micro-twill textile the company claims is made up of 68% post-consumer recycled material. Ditching leather was just one of several measures Apple said it had taken towards its environmental goal of creating carbon-neutral, sustainable tech products.

Buy Now or Wait? How to Avoid Tech Buyer's Remorse
Apple describes FineWoven as having a soft, "suede-like" texture that will come in a variety of colors. For the Watch, FineWoven will be available with the ​Magnetic Link and Modern Buckle bands. FineWoven for iPhone 15, meanwhile, will support using Apple's MagSafe ecosystem of magnetic chargers and other third-party products.
Read more: Everything Announced at Apple's 'Wonderlust' Event
At least from the images shown so far, it doesn't look like Apple is sacrificing too much in the style department with its switch to FineWoven. The company said it had worked with band makers like Nike and Hermes to create more sustainable third-party bands as well. In Nike's case, its new Sport band will include 32% more recycled fluoroelastomer, the rubber-like material used for the band.
Replacing leather with FineWoven may not be the biggest single part of the equation towards creating a "carbon neutral" product, but it's one element everyday consumers are likely to notice. Behind the scenes, the company is working with manufacturers to work toward powering facilities with 100% clean energy.