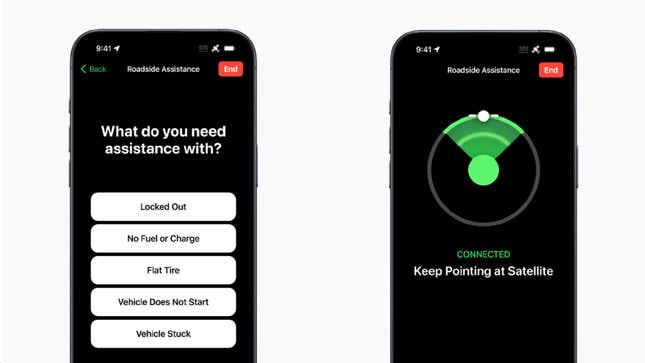 If you're stuck on the side of the road for whatever reason, fret not, you can simply whip out your new iPhone 15. The newest edition of Apple's flagship smartphone will feature a partnership with AAA for roadside assistance when you're off the grid.

Apple announced the new feature for U.S. users alongside the newest edition of the iPhone at its Wonderlust keynote today. Apple's roadside assistance via satellite will cover everything from locking your keys in your car to your vehicle being incapacitated, and will connect you with AAA via satellite text messages when you don't have service. Everyone with the iPhone 15 will have access to the device's Roadside Assistance feature and all Emergency SOS satellite services for free for two years. After that, AAA members will get the service for free while non-members will have fork over some cash—Apple did not immediately disclose how much that cost would be.
Last year, Apple rolled out the Emergency SOS feature on iPhone 14. The feature was an effort to connect users with emergency services in the event they are stranded somewhere without cell reception—whether that be a life-threatening event or a simple hike in the mountains. Apple also announced that emergency satellite service is now available in 14 countries while it would be expanding Spain and Sweden in the near future.
Apple's emergency satellite services have been working, too. Most recently, a family on vacation in Hawaii was able to escape the Maui wildfires using Apple's Emergency SOS feature. The feature was also able to help a stranded snowmobiler in Alaska as well as two victims of a car accident that wound up in the woods.
For more on everything Apple revealed today, check out our coverage.