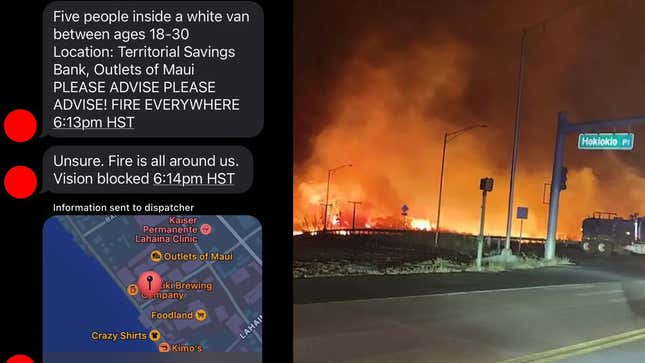 Apple's Emergency SOS satellite connectivity feature debuted last November and has already played a central role in several dramatic, lifesaving rescues. It's helped pluck lost hikers out of L.A. County's canyons and locate stranded snowmobilers in remote parts of Alaska. And now, it's helping save folks struggling to outrun the wildfires taking over the Hawaiian island of Maui.

Michael J. Miraflor tweeted out screenshots depicting what it's like on the emergency contact side of Apple's proprietary offerings. As described, Miraflor's "brother's girlfriend's cousin" and his family were on holiday in Maui's Lahaina area when they suddenly realized their surroundings had "erupted" into flames. Screenshots show how the family member used the iPhone 14's satellite-based Emergency SOS service to message for help. Despite being in a central tourist area where you'd expect cell service, the family likely lost connection as the fires overtook the infrastructure.
"Five people inside a white van," wrote the call for help, followed by a harrowing all-caps cry. "PLEASE ADVISE! FIRE EVERYWHERE." It took about 34 minutes of back and forth between the iPhone 14 sending off details, Apple's Emergency SOS dispatch center, and the local authorities before the rescue concluded. It's all documented in one long run-on screenshot, which you can view in the original tweet. The person listed as emergency contact in the iPhone is privy to the entire rescue via a log, including when family members were safely away from danger.
I contacted Miraflor to confirm where the screenshots came from. He replied that the texts were from his brother's girlfriend, the emergency contact for the cousin who reached out for help in Maui. I also checked in with Apple, and while the company is not providing comment on this specific instance, it did send over a link to its support page to help remind everyone of how to get Emergency SOS via satellite activated on a compatible iPhone. You can try a demo at home to learn how it works beforehand while calm and not facing impending disaster.
Apple invested a ton of money into its Emergency SOS via satellite feature—about $450 million in the U.S. alone. The company's latest device, the iPhone 14/14 Pro has the requisite satellite-pinging hardware for the feature. They're currently the only models with the feature, though it's likely the iPhone 15 plans to carry the legacy. The SOS service has since expanded to more areas around the globe—the U.S., Canada, most of Western Europe, New Zealand, and Australia. International travelers visiting a location with Emergency SOS can take advantage of the feature if they find themselves in a bind unless they bought their phone in mainland China, Hong Kong, or Macao.

Android users are still waiting for their equivalent feature. Earlier this year, Qualcomm demonstrated the satellite connectivity capabilities as they would exist in future Android smartphones, though only for manufacturers like Samsung, which use Qualcomm's chips in its phones. Google's Pixel smartphones are made in-house. Though Android's SVP, Hiroshi Lockheimer, has promised support for satellite connectivity in Android 14 (due out soon), there is no centralized offering akin to the one Apple has for iPhone users, nor an accompanying system of emergency dispatchers like Apple's.
The Pixel 6 and Pixel 7 offer car crash detection but will only call for help if connected to cell service. Motorola also launched the standalone Motorola Defy. It tethers to an Android device to offer satellite SOS but is not a built-in solution.
The ability to contact emergency services despite a lack of cell service has been a significant value-add for Apple's ecosystem. And with this coverage in the face of constant climate disasters, it could very well be the thing that continues to lure in users who want a platform with emergency help natively built in. Hopefully, Android gets on board soon because it feels like we'll all be outrunning some major climate disaster sooner or later with only our phones in hand.