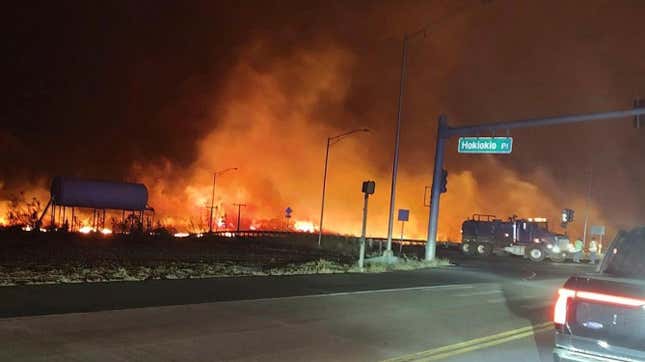 Thousands of Hawaii residents and visitors are scrambling to escape an ongoing fire that has destroyed hundreds of businesses and homes, cut off power, and has killed at least three dozen people.
Meet Microsoft's New Surface Laptops
The reported death toll Wednesday was 6 people. It's increased significantly in less than 24 hours as authorities conduct search and rescue operations. "As the firefighting efforts continue, 36 total fatalities have been discovered today amid the active Lahaina fire," the County of Maui confirmed in an online statement. Maui official stated that the death toll and number of people injured is likely to rise.
At least 30 more people have been injured by the fires as well, the Honolulu Star-Advertiser reported. According to Hawaii officials, people in the affected area jumped into Lahaina Harbor to escape the flames. The injured have been flown to hospitals on other islands after Maui's hospitals became overwhelmed with patients.
The fast moving flames have also damaged much of Maui. Trees, homes, vehicles, have all burned as the flames have moved through the area. Maui County has recorded 271 structures that have burned down. As of this morning, more than 10,900 homes and businesses are without power, according to data from Poweroutage.us.
Lahaina Town, appears charred and hollowed out in videos of the devastation, with hardly a building remaining. The busy area for locals and tourists once housed historic buildings that dated back to the 1700s. Videos uploaded to Twitter shows how smoking, blackened stores and abandoned burning cars line the streets:
Hawaii, like many other U.S. states, experiences wildfires when there are prolonged periods of hot and dry conditions that allow flames to spread. One of the reasons that the current wildfire in Maui has been so destructive is due to the current high winds. Earlier this week, the region experienced high winds over 30 miles per hour, according to the National Weather Service. This was due to Hurricane Dora sweeping several hundred miles south of the Hawaiian islands, fanning already sparked flames.
The area has also experienced low humidity recently, creating little respite for the arid conditions that allowed the fires to spread so quickly, USA Today reported.
Want more climate and environment stories? Check out Earther's guides to decarbonizing your home, divesting from fossil fuels, packing a disaster go bag, and overcoming climate dread. And don't miss our coverage of the latest IPCC climate report, the future of carbon dioxide removal, and the un-greenwashed facts on bioplastics and plastic recycling.