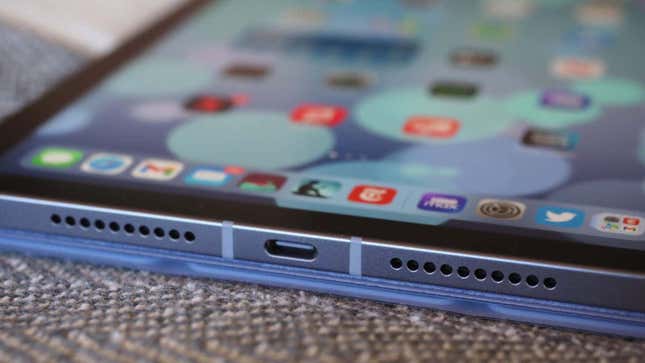 Leave it to Apple to comply with the EU's USB-C mandate, only to find a way to keep its tech proprietary. There's a report from a noted leaker that while the iPhone 15 will have a USB-C port, it will rely on the MFi certification for full capability. That means non-certified cables and power adapters will likely face charging and data transfer limits.

Is This the End of Apple's Lightning Cable?
The leaker, called ShrimpApplePro, was on the mark with the Dynamic Island and the iPhone 14's RAM increase. But their report also follows conjecture from Ming-Chi Kuo, a supply chain analyst who has steered most of the iPhone USB-C conversation until now. In November, Kuo tweeted that the iPhone 15 and iPhone 15 Plus would top out at USB 2.0 transfer speeds, the same as the current Apple Lightning standard. He followed that the iPhone 15 Pro/Pro Max—or Ultra, as it may be—will be faster with USB-C 3.2 and Thunderbolt 3 speeds.
ShrimpApplePro reports that accessories like AirPods and cables are already being manufactured overseas based on the standard. Any cables that aren't MFi-certified will be "limited in data and charging speed."
What does MFi stand for? Well, it's "Made for iPod," which isn't a device that exists anymore (RIP to the mp3 players of yore), but the certification program was implemented back in 2005. Apple expanded it when the iPhone and iPad were introduced and rebranded it as MFi in 2012 after the iPhone 5 adopted the Lightning standard—remember going from 30-PIN connectors to Lightning connectors? What a journey it's been. In addition to helping standardize cables, MFi certifies all sorts of gadgets and accessories to label what's safe for Apple users, including headphones, speakers, and even smart home devices. The only caveat to this program is that accessory makers have to pay a licensing fee of about $100/year. It only applies to manufacturers of electronic accessories, however, particularly those that don't utilize an Apple standard like MagSafe.
G/O Media may get a commission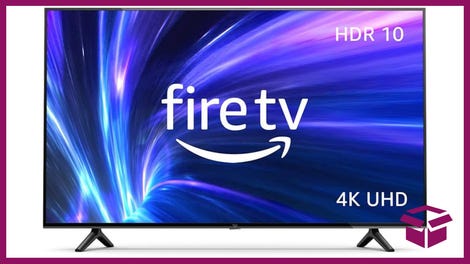 42% Off
Amazon Fire TV 50" 4K Smart TV
While it's easy to see this as another way that Apple is sealing in its walled garden, Android manufacturers practice the same exclusivity with charging cables. OnePlus, under the Oppo brand, uses the red cable motif for its charging standard. The brand has long offered a faster charging specification than the rest of the Android brood within its ecosystem. And now that it's adopted SuperVOOQ, buying the right cable and adapter is essential to reach full 80W charging speeds. Its latest release, the OnePlus 11, can charge fully in about 30 minutes with the cable and adapter included in the box.