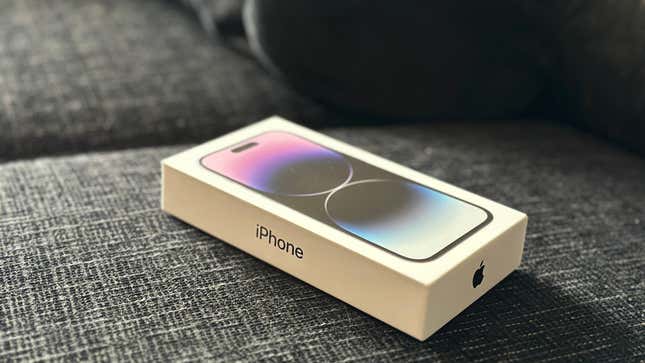 As we slide down into September, Apple hype is reaching its peak. Now that Apple has announced its "Wonderlust" event will take place Sept. 12, aficionados already have a vague idea what the next iPhone's default wallpaper will look like.
Apple Unveils Its iPhone 15 and Apple Watch Series 9
As first spotted by MacRumors, leaker William Faix shared a mockup of the iPhone 15's default wallpaper based on a crude drawing which leaked from a Chinese factory shared on social media platform Weibo. It may be the closest we have to an idea of what the iPhone 15 could look like out of the box, or perhaps in-box as Apple normally displays the default wallpaper on the iPhone packaging.
It's a routine tradition for Apple fans to try and guess what the next main screen will look like. Some have taken the big S-curve from the leaked design to be a literal "S," a design that, to me, doesn't feel much like Apple's MO.
The iPhone 14 Pro's default wallpaper included two half-circles—one purple-hued and another blue-hued—butting heads. Knowing Apple's past designs, this makes the Faix mockup much more reasonable. It's likely Apple won't go for something bland and gray for its flagship phones. The Wanderlust logo, with the blue and silver shifting sands, could hint at the company's frame colors for the iPhone 15 Pro. They could also hint at the colors for the default wallpaper.
The actual chassis for the iPhone 15 are still not officially confirmed across the four different models, but leaks have hinted at a "Midnight" black, "Starlight" white, as well as green, yellow, and coral pink. The iPhone 14 Pro's Deep Purple color was emphasized on its default wallpaper, so something similar could be in play for the iPhone 15 Pro's new titanium chassis. The rumored colors for the more-expensive Pro models include a Dark Blue, Silver-Gray, Space Black, and Titanium.
Apple is heavily emphasizing its Pro models this year, as the new version of the iPhone could come with several new features including a periscope telephoto lens. As noted by MacRumors, this does fit into the whole "wanderlust" theming.