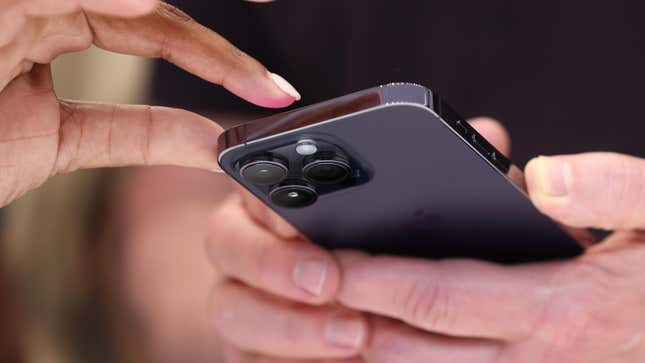 Apple is currently at the top of the heap of smartphones, at least in terms of the number of phone shipments. But for its next go around with the iPhone 15, the Cupertino, California-based tech giant is expected to ship more of its most expensive smartphone edition than any other version, according to a well-known Apple supply chain analyst.
TF International Securities analyst Ming-Chi Kuo wrote late on Monday that the iPhone Pro Max, which according to some rumors has also been dubbed the iPhone 15 Ultra, will account for 35 to 40% of all iPhone 15 shipments. That's easily the highest share of all four editions expected to debut next month sometime around Sept. 12th.
More than that, Kuo said he expects more expensive iPhone shipments to grow from 10 to 20% more in the first half of 2024 compared to the iPhone 14 Pro Max from the same period from this year.
There's a lot happening with the company's next big iPhone. For one, it's expected to ditch its aluminum frame and go with a stronger, titanium body. The more expensive iPhone 15s are also expected to include an "Action" button rather than the regular mute toggle, letting users access certain apps or functions quickly without having to search through their home screen. It could also get more RAM and a periscope-style rear camera sensor. Kuo said Apple moving in this direction will increase the number of periscope sensor shipments by 70% going into 2024.
There's still speculation that these new additions will also lead to an increased cost. Kuo also said that periscope lenses cost three or four times as much as other high-end sensors. That, plus the other Pro additions, have given credence to rumors the iPhone 15 Ultra's starting costs could be between $1,200 and $1,300, more than current iPhone 14 Pro Max versions. That jump in price might put a damper on Apple's sales expectations, which to be clear haven't been going great since last year. Apple CEO Tim Cook pointed to a total smartphone sales slowdown during its most recent quarterly earnings report.
Even if Kuo is correct, and Apple is putting more hope into its Ultra, ultra-expensive phone line, another noted analyst, Jeff Pu, reportedly expects Apple to ship fewer iPhone 15s overall compared to previous estimates.
Still, it's not hard to see why Apple is moving in this direction. As research firm Omdia cited in its second yearly Smartphone Model Market Tracker (spotted by Android Authority), the top most shipped smartphone in the first half of 2023 was the iPhone 14 Pro Max. Second was the iPhone 14 Pro. Apple took up the first 4 spots of global smartphone shipments, but compare that to 2022 when the regular iPhone 13 was its most-shipped device.
Still, overall smartphone shipments have been decreasing, pointing to more users simply feeling comfortable sitting with their current phones. Apple may be hoping that all these extra features for its more expensive iPhones will draw users out of their comfort zone and make them more willing to ditch and switch.