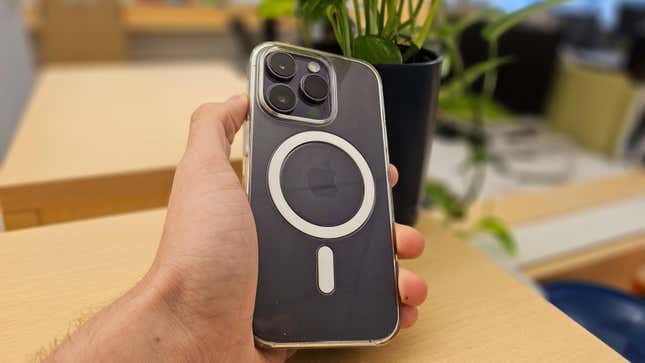 Apple's promising several upgrades to its upcoming iPhone 15 to entice more people to upgrade, but behind the scenes, the company is reportedly expecting far fewer sales of its mainline smartphone this time around.
Apple will be cutting the number of iPhone 15s it is producing before its official announcement date in September, 9to5Mac reported based on a note sent by analyst Jeff Pu. Apple is expected to make 77 million iPhone 15s by year's end. This is compared to previous reports estimating the company would ship somewhere around 85 million iPhone 15 units this year. Bloomberg reported last month Apple expected to "hold shipments steady" despite the overall downturn in smartphone sales.
Part of the issue is the supply chain. The iPhone 15 Pro models are expected to gain quite a few upgrades, including thinning bezels, the new action button, and new titanium frame. There's also issues with the supply chain for Sony's camera sensors. Apple has had trouble with iPhone shipments toward the end of the last year with the iPhone 14 and iPhone 14 Pro after unexpected demand, but time will tell if Apple fans surpass the company's own expectations.
9to5Mac cited Pu saying that Apple has also adjusted its sales estimates in anticipation of weaker adoption rates. What hasn't helped are rumors that the heftier, more powerful iPhone 15 Ultra could cost between $1,200 and $1,300, potentially more than $200 more than the iPhone 14 Pro Max.
Gizmodo reached out to Apple for comment, but we did not immediately hear back.
Apple CEO Tim Cook has mentioned that there's an industry-wide slowdown with smartphone sales dropping since the start of the year. The company claimed that the entire smartphone market has been in decline for the last several quarters. Apple's iPhone sales revenue declined by about $1 billion, though the company was making up that profit loss in paid subscriptions.
There's other signs of weakening demand for phones all across the industry, but that also might give Apple a small leg up. Jeff Fieldhack, the research director at analyst firm Counterpoint Research, told The Independent that global smartphone shipments have taken a steep dive. The firm said that projected shipments across the industry will sit at around 1.15 billion, as low as its been since 2013. That's a 6% decline from last year.
If the company sitting at 1 Infinite Loop can build enough hype off the launch of the iPhone 15, then it could be able to muscle even more market share for a company whose sales make up close to 60% of the U.S. smartphone market according to Fieldhack. The phone slowdown has also impacted wireless carriers, with Bloomberg reporting companies like T-Mobile, Verizon, and AT&T collectively suffering a $5 billion loss in equipment sales over the past year compared to the previous period.
Simply put, people are holding onto their phones for longer. While companies are desperate to go back to the pandemic highs and surge in demand, more folks are reporting they can keep using the same phone for longer. This is indicative of the design changes that have increased battery life alongside promises of several years of security updates from the most major phonemakers.