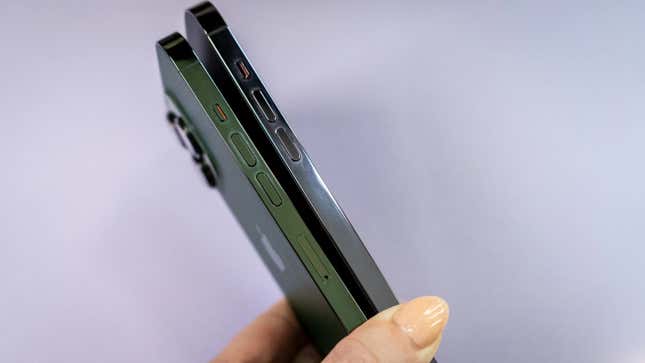 New code released by Apple as part of its beta program hints the next version of the Mute switch on the iPhone 15 Pro and Pro Max could become a button for quickly accessing a bevy of tools and accessibility features.
The latest version of the iOS 17 beta 4 has the Apple rumor mill ruminating more than it already has on a kind of "Action" button for the iPhone 15 Pro and Pro Max. This button would effectively be a programmable shortcut to access features as simple as the camera or flashlight. According to a report from MacRumors, the code points to users being able to access the Translate and Voice Memos apps and even dive straight into several Accessibility features such as AssistiveTouch, Zoom, and VoiceOver. Or, of course, you can set it to simply put your phone on silent mode, as the toggle previously did.
According to MacRumors, the button could access:
Accessibility
Shortcuts
Silent Mode
Camera
Flashlight
Focus
Magnifier
Translate
Voice Memos
Based on previous CAD leaks, this supposed Action button could replace the current mute toggle seen on older iPhone models. Previous rumors pointed to Apple trying to create solid-state "haptic" buttons for its more expensive iPhone models that would provide rumble feedback when touched, instead of being depressed. Both industry analysts and Apple Suppliers have hinted Apple failed to make their haptic buttons work, and that they've returned to the traditional approach to buttons.
A quick access button would be a nifty feature for many users, but for those with disabilities, it could be one of the better features introduced to the new iPhones. Apple has regularly released new accessibility apps such as its recent Point and Speak and text-to-speech features alongside last year's introduction of live captions.
Gizmodo reached out to Apple for comment, but we did not immediately hear back.
As a former longtime Android user, one thing I miss from my previous phone is the quick access to the camera by pressing the on button twice. iPhone users can already access the camera app through the lock screen, but I find it much faster using a physical button.
The Apple Watch Series 8 Ultra already includes a programmable "Action" button. This lets users access specific features from apps such as Workout, Backtrack, Drive, Flashlight, and more without having to dig through specific menus. It seems more companies are figuring out that users are more than comfortable with a few more physical buttons on their devices. Samsung announced this week it's bringing back the physical rotating bezel controls on its Galaxy Watch6 Classic.
---
Want more of Gizmodo's consumer electronics picks? Check out our guides to the best phones, best laptops, best cameras, best televisions, best printers, and best tablets. If you want to learn about the next big thing, see our guide to everything we know about the iPhone 15. Click here to save on the best deals of the day, courtesy of our friends at The Inventory.