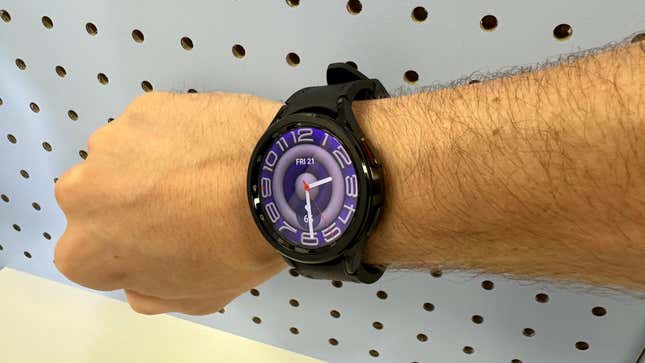 In a world of touchable glass screens, sometimes all users really want is to feel the classic, clicking sensation of older electronics. While a few are still clamoring for the return of physical keyboards on phones, Samsung was on to something with its physical rotating bezel on the Galaxy Watch "Classic" series. Unfortunately the Galaxy Watch 5 went "Pro" and nixed the feature.
Samsung Galaxy Flip 5: Hands-on first Impressions of Samsung's Pocket-Sized Folding Phone
As the company announced at its latest Samsung Unpacked Wednesday, the "Classic" title and physical bezel is back, baby, and along with it comes a bigger screen and more app integrations, all of which could help Samsung defend its "Best Android Smartwatch" title.
The Galaxy Watch6 Classic is just what the doctor ordered for all those missing the rotating bezel. Samsung reps told us they listened to customer complaints and worked to make the rotating bezel thinner and more out-of-the-way. The bezel certainly feels solid as it's used to cycle between apps, and it's all brought together through a rather satisfying clicking sensation. Honestly, it's a much cleaner and satisfying UI compared to swiping on the watch face, even if the screen is slightly larger. The Classic comes with a few different watch faces to choose from for those looking for a far more traditional watch look.
The Galaxy Watch6 is back in its 44mm and 40mm versions, though Samsung is boasting the latest watch has a 20% increased screen size compared to previous renditions, with a 1.5-inch and 1.3-inch respective AMOLED displays. That bump in screen size is partially due to the 15% reduction in the girth of the exterior bezels. That extra display room is supposed to support a 480 x 480 resolution, which is a small but appreciable jump from the Watch 5's 450 x 450. Samsung is boasting you can reach peak brightness of 2,000 nits, though the watch should automatically adjust brightness for all light levels.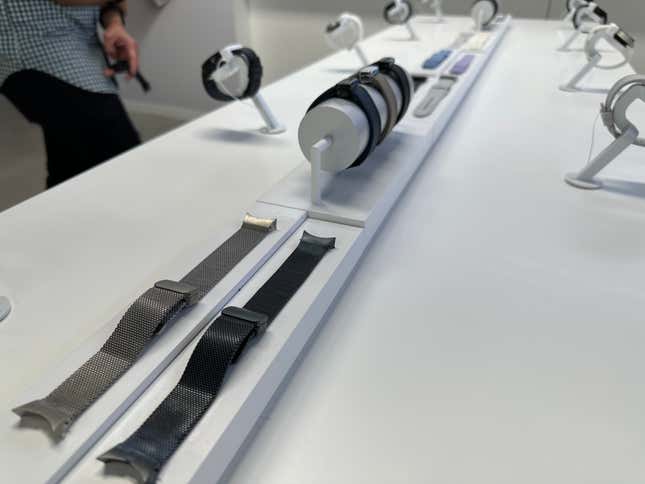 Samsung is also claiming that despite the increased screen size and brightness, users should still expect up to 40 hours of battery life with Always-on display off, and 30 hours with it on. Eight minutes of fast charging should give you eight hours of battery life, though of course we couldn't try out its battery life in the limited time we spent with it. As reports suggest Google is set to release its Pixel Watch 2, battery life could be a big deciding factor for Android users looking at their next watch purchase.
The new watch will also be running on the dual-core Exynos W930 chip running at 1.4 GHz. It's an upgrade from the 1.18 GHz Exynos W920, though with many smartwatches you'll be hard pressed to witness a difference in speed from one device to the next.
On the software side, Samsung is promoting a good deal more health and wellness features. There's a few new apps introduced in the last generation that are being promoted here. The One UI 5 Watch includes atrial fibrillation detection, but the Galaxy Watch6 is also supposed to offer more "individualized" sleep messages and more sleep feedback that includes a "Sleep Consistency" rating for whether users are going to bed and waking up on time. The device also measures a personalized heart rate zone that can track where users expect to be at resting or during exercise.
The company is also promising more app integrations in the near future. The company already announced Samsung Wallet and WhatsApp are part of a new range of apps for the Watch. Samsung is also promising that users can add a Google Calendar and Gmail integration to the Watch6 by this fall.
The Watch6 preorders start July 26, with most markets seeing it available by Aug. 11. The regular Watch6 starts at $299.99 for the smaller 40mm version and jumps to $329.99 for the 44mm version. The Classic is priced at $399.99 at 43mm while the Large jumps to $429.99 to access the 47mm watch face.
---
Want more of Gizmodo's consumer electronics picks? Check out our guides to the best phones, best laptops, best cameras, best televisions, best printers, and best tablets. If you want to learn about the next big thing, see our guide to everything we know about the iPhone 15. Click here to save on the best deals of the day, courtesy of our friends at The Inventory.