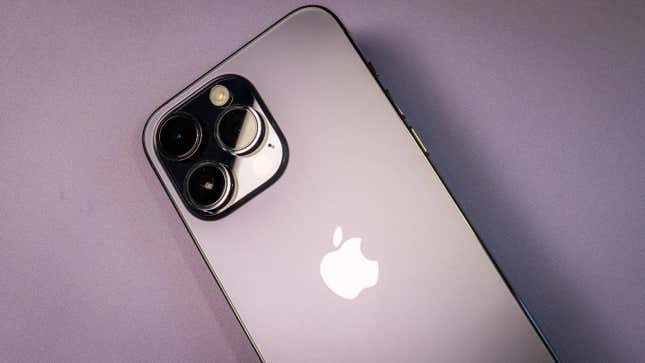 Big ol' buttons are back, baby—or more so, they never truly left. Industry reports all but confirm that the upcoming iPhone 15 Pro and Pro Max will likely not sport any touch-sensitive "taptic" buttons, seeming to clinch earlier reports that Apple was going back to basics for how users will turn on their phone or change their volume.
Is USB-C Finally Coming To iPhone?
These "solid-state" controls were supposed to be more recessed than regular buttons and allow users to control their phone like a mini trackpad by sliding their finger along the edge. The phone would use a so-called "taptic" engine to simulate the clicky feel of actually pushing a button. 
As first reported by MacRumors, the Texas-based Apple supplier Cirrus Logic was supposed to be working on the signals for the taptic drivers. In the company's shareholder letter published on Thursday, the company said "a new product that we mentioned in previous shareholder letters as being scheduled for introduction this fall is no longer expected to come to market as planned." Cirrus added that it had "limited visibility" into the customer's future plans for the product, likely referring to Apple.
The company wrote in November last year that it was working on a high-performance mixed-signal (HPMS) content for smartphones and a product that is supposed to release in the second half of this year. The HPMS system was supposed to connect to the feedback system. Without it, there would be no reason for the recessed button to exist.
The rumors of taptic iPhone 15 buttons have been consistent over the last few months. Well-known Apple thought-drivers like analyst Ming-Chi Kuo have said the solid-state, touch sensitive controls would be featured on the upcoming device based on an analysis of major Apple parts suppliers.
In April, Kuo made mention that the iPhone 15 Pro and Pro would lose the taptic controls "due to unresolved technical issues." This one report caused Cirrus' stock to plummet 12%. The company's latest quarterly report has not done any more to benefit the company's price, as the day after it released its Q4 report, Cirrus' stock continued to decline into Friday afternoon ET.
Although more-recessed solid-state buttons would help protect devices against unfortunate tumbles and water damage, there's a good few reasons why Apple might be shrinking away from any new button designs. There are important questions of how this would impact case makers and those with sensory disabilities. If Apple was trying to recreate the success it saw with the original iPod's wheel controls, it might need to go back to the drawing board.
---
Want more of Gizmodo's consumer electronics picks? Check out our guides to the best phones, best laptops, best cameras, best televisions, best printers, and best tablets. And if you want to learn about the next big thing, see our guide to everything we know about the iPhone 15.