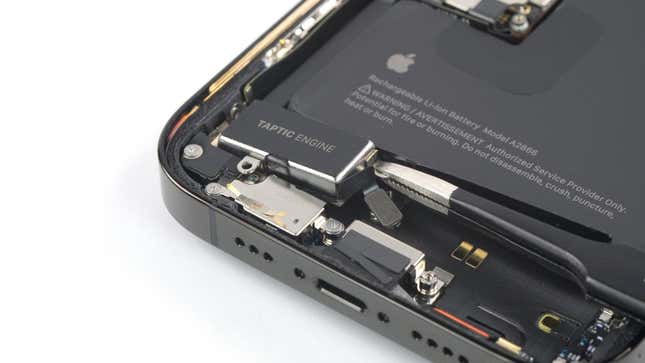 Just what the hell is happening with the iPhone 15's external buttons? Despite numerous leaks and countless reports that premium iPhone 15s would ditch physical buttons and get new, trackpad-like touch-based controls, the Cupertino company may have made a last-minute change that has thrown all of that out the window, drawing blood from some of its major suppliers in the process.
How To Prep Your iPhone or iPad Before Selling
Longtime industry analyst Ming-Chi Kuo wrote late on Tuesday that "due to unresolved technical issues," the iPhone 15 Pro and Pro Max wouldn't see any "solid-state" buttons, AKA the long-rumored flatter touch sensitive design that's supposed to offer better waterproofing. Though his report was exceptionally light on details, he added that some investors were hoping the new button style would be a financial boon to certain Apple parts suppliers like the U.S.-based Cirrus Logic and AAC Technologies.
Based on everything we thought we knew about the iPhone 15, the next iteration of Apple's smartphones was almost certain to have buttons with "taptic" feedback, which work almost like miniature trackpads instead of your usual mechanical ones.
Despite the report's brevity, Kuo's latest analysis created no small amount of consternation for Apple suppliers on the U.S. stock exchange on Wednesday. According to CNBC, Cirrus' stock plunged 12% by the early afternoon ET. The China-based AAC similarly dropped close to 15% around the same time.
Just last month, a video made the rounds on Chinese TikTok counterpart Douyin showing a metallic mockup of the iPhone 15 Pro, which seemed to feature slim volume and mute buttons, pointing to the phone having those touch-sensitive controls. Apple usually releases device scale specs early for companies making iPhone cases, so the dummy model could be real, which would indicate plans have very quickly changed (assuming Kuo's most recent predictions are accurate).
As pointed out by CNBC, Apple is Cirrus' biggest customer, and it accounted for approximately 88% of the company's revenue for its recent quarter. In a letter to shareholders from this past February, the company wrote "Our relationship with our largest customer remains outstanding with continued strong design activity across a wide range of products."
But even if Kuo turns out to be right, the hit to the Apple suppliers' stock lays an outsized importance on what's, in the end, just a minor change to how some users would control their iPhone. The expectation was these more-recessed buttons would lead to less wear and tear, but it's not like anybody outside Apple has had the chance to test that for themselves. Perhaps we would all be as amazed as we were when Apple first released the trackpad on the original iPod—or perhaps not—especially considering the feature would be limited to external controls.
There are multiple reasons Apple could be walking back its touch-based external controls. Case designers would have had to figure out a way to offer users the ability to access the solid state buttons. Some makers could have had to create cutouts on their cases to give users access to the thin taptic-based buttons, which could potentially reduce case integrity. There's also accessibility concerns for the vision impaired.
Perhaps we'll know for sure whether the solid state buttons survived at WWDC 2023 in June.
---
Want more of Gizmodo's consumer electronics picks? Check out our guides to the best phones, best laptops, best cameras, best televisions, best printers, and best tablets. And if you want to learn about the next big thing, see our guide to everything we know about the iPhone 15.