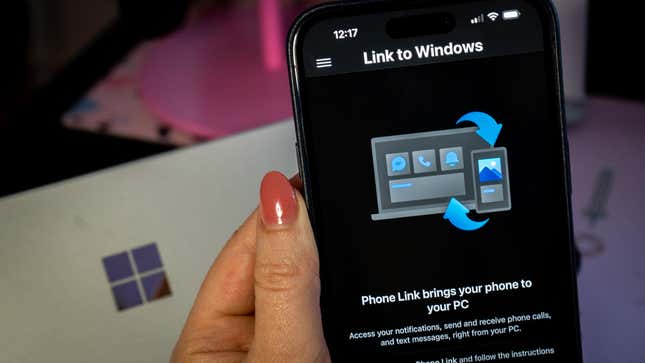 For iPhone users stuck between Apple and Microsoft's worlds, there's good news that will help make jumping from one to the other a little easier. Microsoft has announced that it will roll out support for iMessages through the Phone Link app starting today. The update is available for Windows 11 users and allows you to send messages via your iPhone without touching the device.

How to Hide Your Sensitive Images in Google Photos
Phone Link uses Bluetooth to sync up with your iOS devices, which is how it's worked with Android smartphones thus far. But for iPhone users, it's a little more limited at launch: you can only send and receive messages to individuals, manage notifications as they come in, and conduct phone calls. It's less robust than the Phone Link's capabilities with Android devices, which allow you to drag and drop photos from the camera roll. Some phones, like Samsung's Galaxy S series, even let you employ app streaming to mirror an Android app directly on your PC.
Windows Insiders had early access to this feature beginning in February as part of a significant software rollout. But according to Microsoft, it will take until mid-May before iOS syncing is available to all Windows 11 users. I tried accessing the feature from a Surface Go with the latest Windows 11 build, but the option to link an iPhone remains greyed out. You can at least download the Phone Link app from the Apple App Store if you're on iOS and want to prepare for the feature's arrival.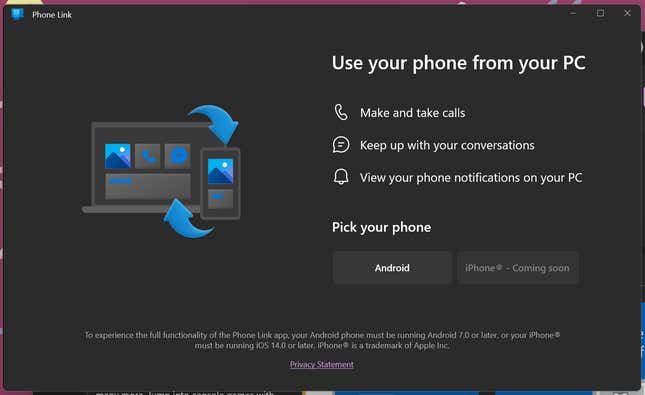 If you're a Windows Insider, you already have access to the new feature. Once you scan the QR code to link with your iPhone, you'll have to dig into the iOS settings in the Bluetooth menu and enable full access to your Windows machine for notifications and phone calls to come through. Phone Link for iOS works with iOS 14, Windows 11, and the latest Phone Link software update. It is not available for iPad OS or MacOS, though. If you want access to helpful photo syncing, Microsoft suggests using the built-in iCloud integration with the Windows Photos app.
The iMessage-to-Windows pipeline has been five years in the making. Microsoft's Joe Belfiore first hinted that it was working on this kind of integration back in 2018 in an interview with The Verge.
I'm looking forward to being able to manage Android and iOS devices simultaneously, as I'm currently juggling three different phone numbers between platforms. Unfortunately, Android devices remain incompatible with iMessage, even in this capacity. Although you can view Android messages via a web app on iOS through the mobile browser, similar access remains unavailable for viewing iMessages from an Android device. You also can't send iMessages to the Android platform, where the dreaded "green bubble" moniker originated. Enticing Apple to support it has been one of Google's major campaigns since it told Apple to "get the message" last year. Maybe Microsoft has some tips on how to entice Apple to comply.