When I installed iOS 8.4 on my phone today to try Apple Music, I couldn't find the iTunes icon. Anywhere. What had happened? Was it a glitch? Then I realized I had hidden the iTunes app in a drawer of Apple apps I never use, alongside Tips and Mail.

I found it eventually, but it turned out I hadn't used iTunes in months. The last update to the app was U2's Songs of Innocence, which Apple put on my phone without asking last year, and which I never even bothered to delete, I guess. Apple has neglected iTunes for a long time, and with Music, it's hoping to snare the users that its former hit application has hemorrhaged over the years.
As a marginally restless Spotify user, I was curious.
Pick Your Poison
Fire up Apple Music, and you'll get an intro screen that gives you two pricing options—either $10 for an individual account or $15 for a family account once your free trial ends. One important note: Make sure you go into your user profile, click on your user ID within the app, and turn off auto-renewal slider when you join so the subscription doesn't automatically charge you come September. Then you're ready to go.
For You is Music's flagship feature: Tell us what you're into, it asks. Below the request, a flock of magenta circles floating around on the screen, each with its own genre, like Latin, Oldies, Indie, Classical, Rock. Tap what you like, and the circle bulges out. Tap again if you love it, and it inflates even more. You can delete circles you'd rather not with a long press.

G/O Media may get a commission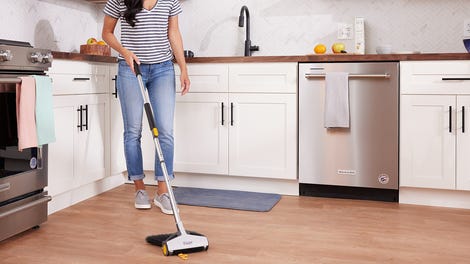 BOGO 50% Off
Flippr - BOGO 50% Off
It's a clever little user interface trick, but it also feels a little like Apple hasn't updated its boilerplate names for musical genres since the early 2000s when iTunes was cool. Electronic versus Dance? Hits versus Pop? And then there's Alternative, a black hole of a genre that, at this point, I assume is just a byword for Creed. But who could know? I left it floating in my profile.
After you've defined your rich life-long relationship with music with a series of taps, it's time to pick which artists you like and love from a random assortment of floating bubble names. Taylor Swift was one of the first bubbles to float across my screen—she appears all over the app today (I wonder why)—along with Elton John and Richard Wagner and about a dozen other names. Uh... Could I start over? Luckily, there's a button called "more artists" that introduces options more akin to my musical interests.
I soon got tired of asking for more options; most of the names that I had seen float across the screen were indie bands from roughly 2010 or so, along with a few more topical names like Father John Misty and FKA Twigs. When I swiped to the next screen, Music showed me my suggested playlists based on my picks: "Intro to Passion Pit," "Intro to Vampire Weekend," and "Indie Hits: 2011."
Below the recommended playlists, I found a bunch of albums from the same era and same genre. I guess that's on me—I had selected some indie bands that fit into that mold—but I felt like I had selected plenty of newer artists too.
What Apple had come up with was a kind of room-temperature indie porridge that, while I couldn't object to it based on my answers, wasn't very fun to listen to. I have to assume I didn't spend enough time waiting for more artist bubbles to float across the screen earlier. But wouldn't it have just been easier to give me a check-list, if Apple had wanted a full patient history?
Apple Music isn't the only company struggling to build an app that is intelligent enough to recommend music based on a user's input or listening trends. And the fact that its recommendations felt old, or worse, pretty boring, wasn't a huge surprise. I feel the same way about Spotify's similar attempt to cater to individual users, which turned up a bunch of songs I was sick of from just a few artists. No one has quite figured this out yet, Apple included.
Mild Delight, With a Dash of Messiness
Here's where Apple Music really clicked for me: The interface. It's dense and rich—and by that I mean each page feels like it's packed to the gills with playlists, artists, and singles, arranged in a variation of tiles that give the interface visual interest. If you don't like what you see, just pull the page down and it'll refresh with new options.
Compared to other streaming services, there's simply a huge amount of stuff to browse: Picks from Apple's own music editors. Playlists based on activities like "vacationing" and "breaking up." Lists of "hot albums" and "hot tracks." Videos. New releases. Playlists that introduce you to an important band that explain with words, as well as songs, why they matter. And so on. It's not that these things are different than what, say, Spotify offers. They're just a lot easier browse from your phone screen through Music.
This is a good example of what Apple does really well: Mildly delight users with design. Apple Music has the same anatomical parts of other streaming services out there—along with some perks, sure—but it packages them in a way that's more or less a pleasure to use. At the same time, the density of the interface was, at times, a little much for a first-time user. But I'd also guess that as I develop habits as a user and that sense of messiness will fade.
Considering how similar Apple Music is to other streaming options out there, repackaging the same functionality with a familiar Apple-branded interface has the potential to be a selling point for users who are alienated by the foreign UI language of other apps—think people who don't have a ton of experience with these services. Music might not convince adroit streaming music users to switch, but it'll surely convince a ton of Apple customers who've never paid for a streaming service to try. And historically, that's been Apple's sweet spot.
Do People Actually Want Radio Back?
The only real wildcard feature in Music is its news Beats 1 radio station, which is actually like radio—not a podcast like you might expect. Apple and Beats are billing it as an "always-on" broadcast that anyone with an Apple ID can use.
When I tuned in this afternoon about half an hour after the station started streaming, I heard AC/DC's For Those About To Rock (We Salute You) blaring from my phone. As the song finished up, MC Zane Lowe pointed out that the band's discography was finally coming online today (it's on Spotify, too), seemingly timed with the Apple Music launch. The same goes for Dr. Dre's The Chronic, Lowe pointed out, which will be available for the first time online through Apple Music. In fact, Beats 1 felt a lot like an Apple-sponsored playlist. Then Lowe launched into a Hudson Mohawk single, describing the producer's new album as "possibly one of the most important albums of the year."
In just a few seconds, the DJ had told us pretty much everything we needed to know about how Apple plans to win this war: Target the whales—the stars like Swift and Dre—and pepper it with hit singles and albums that are accessible to a broad range of listeners. Match the libraries and price points of other streaming services, but back its own version with the cash and sheer firepower of one of the biggest (certainly one of the richest) technology companies in the world.
Will it work? It has before.
---
Contact the author at kelsey@Gizmodo.com.