While iOS 7 was expected to be the star of Apple's Worldwide Developer's Conference (WWDC) this year, it wasn't the only operating system getting a significant update. Supposedly codenamed "Cabernet" at headquarters, OS X Mavericks was unveiled on Monday with little fanfare. The specific improvements, however, are designed to improve performance across Apple platforms. So upgrading to OS X Mavericks won't just make life on your Mac easier. It'll make life easier.
The latest version of OS X offers a number of understated improvements that will please power users. It will also please iPhone and iPad users, because many of the upgrades are basically all borrowed from or inspired by iOS products. The update will overhauls some core pieces of Apple software, starting with the very basics. Finder, for instance, will be getting some new browsing features, including tabs and tags, which should make surfing around your Mac a bit more like surfing the Web.
From there, the upgrades start to drift pretty hard into power user territory. Screen-happy graphic designers out there will be happy to hear that full screen app support will now be supported on multiple displays. This includes the ability to summon the dock and use the menu bar on both displays. It also means you could be running Photoshop in fullscreen mode on your main display and keep Spotify open on your secondary display in fullscreen mode, open enough to see your playlists at least. Mission Control is also "supercharged" in OS X Mavericks, as is Apple TV which will now act as a full power display that interacts with your desktop. So you can move windows from Mission Control into Apple TV.
G/O Media may get a commission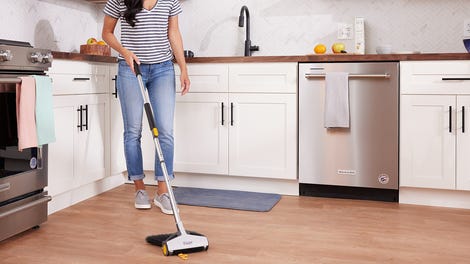 BOGO 50% Off
Flippr - BOGO 50% Off
Advanced Technology
The new OS includes a lot of behind-the-scenes tech improvements, including increased battery life, compressed memory and so-called timer coalescing. All of these improvements will mean that the system will run better—up to 1.5x faster than in Mountain Lion.
Related to the purely technical improvements comes a big update to the old password management app. It's called iCloud Keychain and saves not only passwords for the apps on your Mac but also your personal information on websites. Ostensibly, you'll never have to type in a password twice again. Notifications will also be getting a few upgrades, improvements that might mean they'll actually be useful on the Mac.
Safari
Safari received see a number of improvements on the backend that include the ability to pause pages—"App Nap"—or tabs running in the background to shore up extra memory, save battery life and speed up the performance of whatever you're doing at the moment. This is what iOS already does in order to keep your web browsing snappy while you're on the go. Under the hood, there are big Javascript improvements, background tab optimization and power saver. Safari already ran about to 30 percent faster than Firefox and 50 percent faster than Chrome. Now it will be about 300 percent faster. It also uses less energy.
Otherwise, features within the browser have been improved and expanded. The most exciting of these happen in the sidebar on the lefthand side of the browser. These features includes the read-it-later-style Reading List which you can scroll endlessly through saved articles and Shared Links which appears to be a very basic social sharing feature. In other words, Safari wants to be your new Google Reader when Google Reader dies next month.
Calendar and Maps
Here's that flat design you've been hearing about. The new Calendar and Maps apps looks a lot like the old iCal app and classic Google Maps. The interface improvements come with new calendar and mapping functionality, like the inclusion of weather reports, maps and travel times in calendar events and the ability to send a map from your Mac to your iPhone very quickly. The Maps app looks most exciting since you can take advantage of Apple's Flyover feature and see 3D views of the world's cities on a big screen with a fast data connection that means you'll see fewer lags while exploring. It sounds like planning a vacation will actually be fun and easy.
iBooks
As you might've anticipated, Apple is porting its popular iBooks software from the iPad back to the Mac. The features here are largely the same as they are in the mobile version, but the bigger screen size makes for better note-taking capabilities, flash cards for studying and a "relaxing" night view.
Does all this sound thrilling? Not really, but Apple's smart to reward its most faithful users with simple features they've been asking for.
If you're running OS X Snow Leopard or Lion, you'll probably see a big boost in performance and stability by upgrading to Mavericks. If you're using Mountain Lion or do all your browsing in Chrome, you probably don't need to spend the extra money on Mavericks which will be available to the public this fall.
That said, Apple's been dropping the price of OS X updates. Mountain Lion was just $20! And the updates in Mavericks look like they'll be much more useful, even if they're not entirely necessary. In fact, that sort of seemed to be the theme of WWDC this year. Useful but unnecessary.