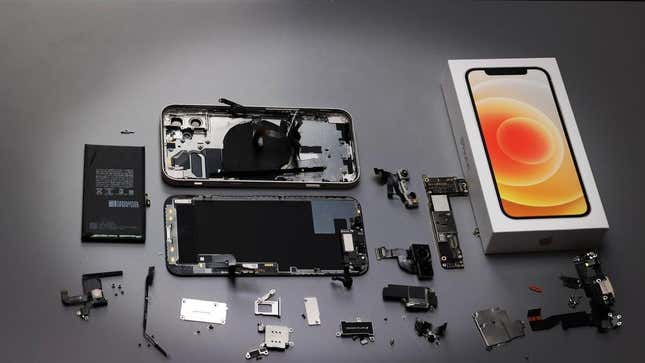 This week, Apple announced its support for a California bill to allow consumers to repair or modify their devices independently. The bill, called SB 244 or the Right to Repair Act, was passed by the state senate in May with a 38-0 vote, requiring manufacturers to provide owners and repair shops with the necessary tools and manuals to fix devices.
Buy Now or Wait? How to Avoid Tech Buyer's Remorse
The Right to Repair Act says it will "provide a fair marketplace for the repair of electronic and appliance products and to prohibit intentional barriers and limitations to third-party repair," with the exception of video game consoles or alarm systems.
In a letter to Sen. Susan Talamantes Eggman, the bill's sponsor, Apple wrote: "We support SB 244 because it includes requirements that protect individual users' safety and security, as well as product manufacturers' intellectual property," The letter, published by 404 Media, added: "We will continue to support the bill, so long as it continues to provide protections for customers and innovators."
Apple did not immediately respond to Gizmodo's request for comment.
Apple's letter for the "Right to Repair" bill could give it the support needed for California's State Assembly to push it through. "If California votes yes and continues to raise the bar on electronics repair from other states, it's becoming obvious the fight is over, and that we've won," Nathan Proctor, Senior Director of consumer rights group U.S. PIRG Campaign for the Right to Repair, told 404 Media.
The decision goes against Apple's previous stance on similar legislation that would require it to comply with the consumer's right to repair their own devices and have long lobbied against it. In 2019, two Apple lobbyists met with the Privacy and Consumer Protection Committee to fight a right-to-repair bill, arguing that consumers could hurt themselves if they tried to replace a lithium-ion battery themselves, Vice reported at the time.
Apple lobbyists also fought against the "Fair Repair Act" proposed in New York State in 2017, while simultaneously opposing another fair repair bill in Nebraska, saying it would turn the state into a "Mecca for bad actors," criminals, and hackers, according to a separate Vice report.
Governor Kathy Hochul, (D-New York) ultimately pushed through the Digital Fair Repair Act in January of this year. The legislation went into effect on July 1.
Steve Wozniak, who co-founded Apple with Steve Jobs in the 1970s, has been vocal about his support for right-to-repair policies, telling the BBC: "We wouldn't have had an Apple had I not grown up in a very open technology world." He added: "It's time to recognize the right to repair more fully." Companies have typically resisted giving consumers the ability to repair their own devices "because it gives the companies power, control, over everything," Wozniak told the outlet.
The company started moving toward offering independent repairs to consumers by launching a self-service repair program in 2022. The program provided parts and tools for customers to rent that would allow them to fix their iPhones or Macs, rather than replace them.
"Apple's support for California's Right to Repair Act demonstrates the power of the movement that has been building for years and the ability for industries to partner with us to make good policy to benefit the people of California," Talamantes Eggman, said in a statement to TechCrunch. She added: "I'm grateful for their engagement on this issue and for leading among their peers when it comes to supporting access to repair."