Apple has just sent out its invitations to an event on September 9th. You can expect at least one iPhone, and possibly an iWatch as well. And hey... we'll be there!
As always happens in the last week or so before a new iPhone announcement, rumors abound! What seems beyond a doubt is that we'll see a 4.7-inch iPhone that looks very similar to the iPhone 5S, just, you know, bigger. Where things get a little hazier? The possibility of an even larger model, rumored to have been in the works for years now, and the Apple iWatch, which was recently tipped as making its debut at the event.
While in the past Apple invites have included adorable clues about what to expect, this year's version leaves things at a simple "Wish we could say more." Which could mean a focus on Siri, but is more likely just garden-variety coyness.
We'll be covering the event live for the first time since 2009. In the meantime, you can get fully caught up on our iPhone and iWatch rumor roundups.
G/O Media may get a commission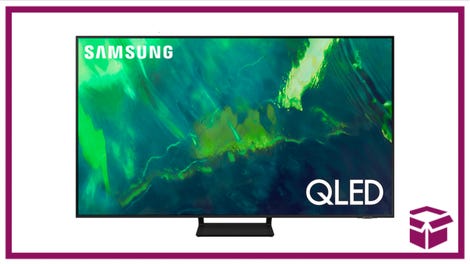 35% off
Samsung Q70A QLED 4K TV
Save big with this Samsung sale
If you're ready to drop some cash on a TV, now's a great time to do it. You can score the 75-inch Samsung Q70A QLED 4K TV for a whopping $800 off. That knocks the price down to $1,500 from $2,300, which is 35% off. This is a lot of TV for the money, and it also happens to be one of the best 4K TVs you can buy right now, according to Gizmodo.