Two decades after the "windsock" was nearly laughed off the market, a radical redesign has made the female condom more user-friendly. In a feature for Mosaic, Emily Anthes outlines the device's history and how training in its use may help give women more choices for preventing pregnancy and sexually transmitted disease.
From the article:

Technically, the female condom works. When used correctly, it reduces a woman's risk of contracting HIV by around 94–97% each time she had sex, according to estimates. Studies show that making female condoms available alongside the male version increases the percentage of sexual acts that are protected, and decreases the prevalence of sexually transmitted infections.

Yet, two decades after its much-celebrated introduction, the female condom still isn't living up to its potential. Less intuitive and familiar than the male condom, the device simply never caught on. Journalists mocked it, clinicians ignored it, and women shunned it, claiming that the condom was aesthetically unappealing and technically difficult to master. Today, only 1.6% of all condoms distributed worldwide are female condoms.

There may finally be an opening to change the female condom's fate. For years, a handful of researchers, engineers and entrepreneurs have been quietly tinkering with the device. Their efforts are now maturing and an assortment of redesigned and reinvented female condoms are beginning to make their way onto the market. The introduction of new, more user-friendly products – coupled with renewed efforts to promote the technology around the globe – may finally be positioning the female condom for a breakthrough.
Read the rest at Mosaic.

[Photo Credit: AP Images]
G/O Media may get a commission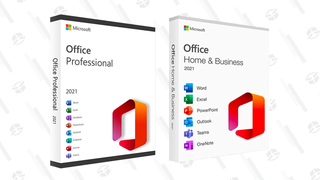 89% off
Microsoft Office Professional 2021 Lifetime License