There's nothing quite like an Apple product launch: The lines, the sights, the smells. Are you pre-ordering and getting an iPad on the very first day? Here's what everybody from Gizmodo's doing:
Brian Lam: I feel like I have to live with one for the sake of knowing what the shit I am talking about. maybe i'll just keep on using my iphone, though. it's mini-ipad.
What he actually did: Bought two, one for him and one for his girlfriend. "I finally realize the 2 units per person limit. It's to protect us from ourselves." Both are 32GB, 3G.
Joel Johnson: I will get a 3G one at some point. I wish the Wi-Fi one had a proper GPS chipset. I'd probably forgo the 3G if it did.
Jason Chen: Cheapest Wi-Fi one, and will tether to a phone that's Wi-Fi tetherable.
G/O Media may get a commission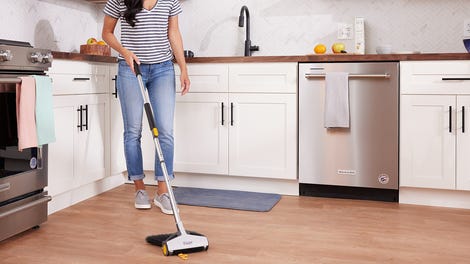 BOGO 50% Off
Flippr - BOGO 50% Off
Wilson Rothman: I am going to get 3G, with the $15/month data plan. I figure it's mostly Wi-Fi, but I want security of wide area wireless.
Don Nguyen: Not interested. Waiting for the HP Slate or second gen.
Jack Loftus: In any event, At&t told me to go with wi-fi, so I'm going to get a 3G.
David Chaid: Not the first day, but if I'm impressed enough I might pick one up reasonably close to launch.
What he actually did: Pre-ordered 16GB, Wi-Fi.
Jesus Diaz: I'm too. 3G model.
What he actually did: Pre-ordered 32GB, 3G.
John Herrman: I am.
What he actually did: 16GB, Wi-Fi.
Kyle VanHemert: i think i'm gonna get the cheapest wifi one. don't really care about 3g.
What he actually did: 32GB, Wi-Fi.
Mark Wilson: I'm waiting on gen 2 as well.
What he actually did: Bought one. 16GB, Wi-Fi.
Chris Mascari: My GF will probably buy a 3G at launch, and if it wins me over I'll get one of my own...
What he actually did: His girlfriend backed out.
Brian Barrett: Waiting on more magazines getting their act together so there's actual content I care about, and for the price drop.
Kat Hannaford: Like the iPhone, I plan on never buying one. Just have no interest in using the iPad.
Adam Frucci: I'm waiting for generation 2.
What he actually did: 16GB, Wi-Fi, blamed his girlfriend.
Rosa Golijan: 32GB/3G.
What she actually did: "I didn't order. I like actually walking into a store, buying, and fondling the gadget. Granted, I'll probably give in and wind up ordering anyway...damned need for quick gratification."
Matt Buchanan: Click to view
Just kidding! I'm totally getting a 3G on the first day. I can always give it to my mom when the next one comes out.
What I actually did: 32GB, 3G. Cried softly as I clicked checkout.
What about you?