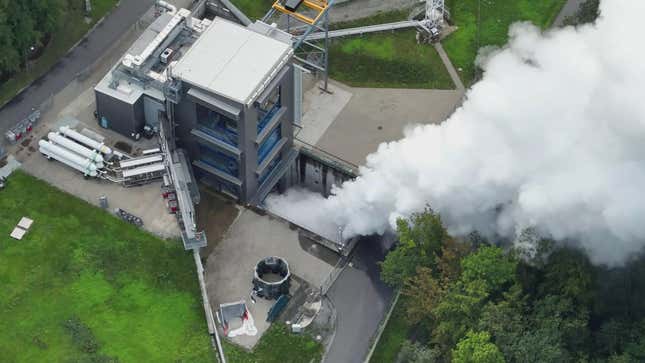 Following numerous delays and technical hiccups, the Ariane 6 rocket is undergoing a series of tests that could finally determine a launch period for the heavy-lift launch vehicle at some point next year.
The European Space Agency (ESA) hopes to set a launch date for the long-delayed Ariane 6 rocket after it completes a series of tests in October. Ariane 6 completed a hot fire test on Friday at the German aerospace agency's test centre in Lampoldshausen, Germany, ESA announced on Monday. During the test, engineers fired up the rocket's Vinci upper stage engine, powered by a cryogenic mixture of liquid oxygen and hydrogen, for 11 minutes and went through the sequence of operations that will take place during its first mission. The last of a series of tests is set to take place on October 3, after which ESA hopes to be able to announce a launch date for Ariane 6 that will likely take place in 2024.
"The tests are looking really good," ESA Director General Josef Aschbacher said during a press briefing on Monday. "I think the chances, if everything goes perfect, are pretty good that it's not too late in the next year, but there are still a lot of unknowns ahead of us." Things, however, have not always gone perfect for Ariane 6.
The inaugural flight of Ariane 6 has been in the works for a long time. The heavy-lift rocket was originally slated for launch in 2020 and later in 2022 but its debut was pushed back to late 2023 due to technical challenges and again to 2024.
The upcoming test in October has been delayed twice already. On July 18, Ariane 6 was undergoing a countdown test when engineers failed to conduct a short hot firing of the Vulcain 2.1 engine "due to certain measurements exceeding preset limits," ESA wrote in a report. The test was rescheduled for August 29, and again postponed due to technical issues.

French company Arianespace is developing the rocket on behalf of ESA, with Ariane 6 serving as a successor to the now-retired Ariane 5. The legendary rocket performed its final flight in July, ending a 27-year run.

Following Ariane 5's retirement, the European space industry has been in dire need of a launch vehicle to provide access to Earth orbit. After cutting ties with Russia following the invasion of Ukraine, Europe was forced to stop relying on the Soyuz rockets for access to space. Aside from Ariane 6, Arianespace's Vega-C rocket suffered a malfunction in December 2022 that resulted in its destruction and its launches were suspended.
As a result, ESA really needs its Ariane 6 rocket to fly. The 197-foot-tall (60-meter) rocket is capable of lifting 10 metric tons to low Earth orbit, 4.5 metric tons to Sun synchronous orbital (SSO) altitudes reaching 500 miles (800 kilometers), and upwards of 10.5 metric tons to geostationary transfer orbits (GEO).

Even before getting off the launchpad, the rocket already has a busy launch schedule ahead that runs to 2029. Earlier this year, Amazon booked the Ariane 6 rocket for 18 launches to transport the company's Project Kuiper satellites to low Earth orbit. Ariane 6 is also expected to deliver ESA's Galileo global navigation satellite system (multiple launches from 2023 to 2025), the Meteosat weather satellites (2024), the Earth Return Orbiter for the Mars sample-return mission (2026), and the upcoming PLATO space telescope (2026), among others.
For more spaceflight in your life, follow us on Twitter and bookmark Gizmodo's dedicated Spaceflight page.