Wow, this could be my fallback plan for a lightweight entertainment PC if the Eee Keyboard ends up sucking. The EB1501 is the first EeeBox with an optical drive, Windows 7, and a classy new design.
Otherwise, its specs are the same as the recent EeeBox EB1012. That means dual-core Atom N330 processor, 2GB of DDR2-800 RAM (expandable to 4GB), 250GB hard disk, and Nvidia Ion graphics.
The optical drive is only a DVD-RW, but I can use my PlayStation for Blu-ray. Otherwise, the EB1501 can pretty much connect to anything and everything: it's got 802.11n Wi-Fi, Gigabit Ethernet, 6 USB 2.0 ports, an SD card reader, and an eSATA connection for external hard disks. An S/PDIF connection also gives you 5.1 audio.
G/O Media may get a commission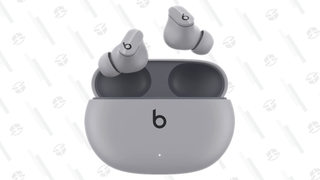 What a crazy little box. We're still waiting on U.S. pricing and availability, but it's expected to be €399 ($580) in Europe, and should arrive around October 22—when Windows 7 arrives. [Asus]