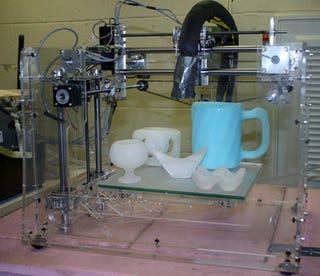 I am sorry to report that the latest profession to be made obsolete by robots is ice sculpting. Cold-hearted explanation follows:
As you can see in both the picture and the description below, ice sculpting just became as easy as flicking a switch. When will the madness end?
Currently, the practical applications of this project include commercial and industrial part modeling, and construction for the ice-tourism industry. For instance, small-scale ice models represent economical alternatives to intricate 3D models of architectural objects, be they scale models of buildings, site models, or building details.
Eventually, the designers hope to create large, habitable buildings and other structures (like the well-known Ice Hotel, perhaps).
Might I suggest an Ice Bar as one of the first projects? Those out of work ice sculptors are going to need a place to vent. [McGill via Boing Boing]