Shazam might have found its villain. Legendary Pictures producer Cale Boyter dashes hopes of a Pacific Rim/Godzilla/Kong crossover. Wayward Pines is no more. Ben Barnes cryptically confirms his return to Westworld. Plus, a new clip from Coco, and meet four mysterious new characters from Agents of SHIELD's next season. Behold, Spoilers!

Avengers 4
Just Jared has pictures of both Robert Downey, Jr. strutting around on set in SWAT gear, and Thor speaking with an incarcerated Loki—with costumes that interestingly seem to indicate a flashback to the climax of the first Avengers movie will be part of the film.
---
Deadpool 2
Tyler Bates has been hired to write the film's score. [Film Music Reporter]
---
Goosebumps 2
Variety reports Rob Lieber has been tapped to write a screenplay for Goosebumps 2, based on a treatment that apparently omits Jack Black's R.L. Stine entirely.
G/O Media may get a commission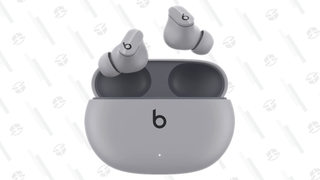 ---
Shazam
The Wrap reports Mark Strong is in talks to play Shazam's archenemy, mad scientist Dr. Sivana.
Meanwhile, Variety confirms Grace Fulton has boarded the film as "one of [Billy] Batson's friends."
---
Pacific Rim: Uprising/Monsterverse Crossover
Speaking with Cinema Blend, Legendary Pictures producer Cale Boyter confirmed there are no plans for a crossover film pitting the Jaegers against Godzilla, King Kong, King Ghidorah, Mothra or Rodan — however, he believes something "better" is gestating.
There's no plans to merge. Understandably that might be cool, but I might have something up my sleeve that will surprise you – that I think you guys will love, that I think is better than the obvious approach.
To be perfectly frank, Legendary's going to have to do a lot to have something "better" than Godzilla vs. Giant Robots happen.
---
Coco
Miguel discovers the Land of the Dead is real in a new clip.


---
Wayward Pines
Sad news: Wayward Pines has been officially canceled by Fox. [Spoiler TV]
---
Rise of the Teenage Mutant Ninja Turtles
The voice cast of Nickelodeon's new Ninja Turtles series has been cast: Omar Miller will voice Raphael, Ben Schwartz is Leonardo, Josh Brener plays Donatello, while Brandon Mychal Smith is the new Michelangelo. Rounding out the cast is Kat Graham as April O'Neil, and Eric Bauza as Splinter. [Coming Soon]
---
Westworld
Ben Barnes confirmed to Screen Rant he shall return in season two in the most vague manner possible, befitting of a Westworld actor:
I can tell you that I have been on set at least once already.
---
Legends of Tomorrow
The Legends chase Gorilla Grodd to the Vietnam War in the synopsis for—what else could it be titled, really—"Welcome to the Jungle"
With Sara (Caity Lotz) out of commission, the team finds a new Anachronism that leads them to the jungles of Vietnam and right in the middle of the war. Ray (Brandon Routh), Amaya (Maisie Richardson-Sellers) and Zari (Tala Ashe) pose as journalists and trek through the jungle when they are lead to time-displaced Gorilla Grodd. Meanwhile, Nate (Nick Zano) and Rory (Dominic Purcell) run into someone Rory knows which give a glimpse into his past.
---
Supergirl
Supergirl does The Abyss in the synopsis for episode seven of season three, "Wake Up".
When Winn (Jeremy Jordan) and the team discover an alien ship has crash landed deep underwater beneath National City, Kara/Supergirl (Melissa Benoist) is called in to investigate. Meanwhile, Hank (David Harewood) attempts to bond with his father, Myr'nn (guest star Carl Lumbly). Samantha (Odette Annable), eager for some understanding of the changes she has been experiencing, looks to her estranged mother, Patricia Arias (guest star Betty Buckley), for answers.
---
Titans
Omega Underground has unearthed an audition tape from Canadian actor Tim Campbell that seems to confirm an appearance—and immediate death —of the Flying Graysons, referred to as the "Crosslands" here.
---
Once Upon a Time
Nathan Parsons has joined the cast as Nick, "a confident and charismatic slacker-turned-successful-lawyer" and "natural guy's guy" according to Entertainment Weekly. The magazine revealed Parsons will serve as a potential love interest for one of the series' main cast.
In related news, episode 12 of season seven is titled, "A Taste of the Heights."


---
Agents of SHIELD
Finally, Entertainment Weekly as photos of SHIELD's latest recruits: Deke (Jeff Ward), "the ultimate survivor" and a "roguish scavenger," Tess (Eve Harlow), a woman "striving to be self-sufficient in very desperate circumstances," Flint (Coy Stewart), based on the rock-powered Inhuman of the same name in Marvel's comics, and Grill (Pruitt Taylor Vince), "a gruff taskmaster, lording over those under his command with an unforgiving temperament."
---
Banner art by Jim Cooke.