Robert Englund thinks he's got one more Nightmare on Elm Street movie in him. Get a look at the animated adaptation of Reign of the Supermen. Erik Oleson has hopes that Daredevil will get a fourth season. Plus, what's to come on Black Lightning and The Flash and our best look yet at Star Trek: Discovery's hairy Klingons. Spoilers get!

Avengers 4
Both a leaked image of the movie's action figures and a recent set pic from Gwyneth Paltrow indicate Pepper Potts will suit up in her own Iron Man-esque armor in the movie, presumably as Rescue, her armored up comic book alter-ego.
---
Night of the Comet
Deadline reports Roxanne Benjamin (Southbound) is now writing a remake of the 1984 post-apocalyptic sci-fi/horror/comedy, Night of the Comet. While no story details are available, the original film concerned two sisters fighting off zombies and mad scientists after an apocalyptic comet wipes out most life on Earth.
G/O Media may get a commission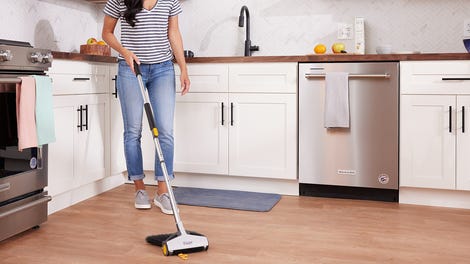 BOGO 50% Off
Flippr - BOGO 50% Off
---
A Nightmare on Elm Street
Speaking with Access Online, Robert Englund stated he "might have one" final Elm Street movie left in him.
I think they want to reboot the franchise, but they're gonna need a new actor. They're gonna need a new actor to play Freddy because they're gonna have to do eight of them. I might have one left in me… but yeah.
---
Quicksand
David Tennant and Emily Watson have boarded Quicksand, the feature debut from television director, Mark Brozel (Humans; Troy: Fall of a City). The film concerns a grieving couple offered supernatural revenge by a mysterious stranger "who won't take no for an answer". [Bloody-Disgusting]
---
The Boy 2
Katie Holmes will star in the sequel to 2016's killer doll movie, The Boy, as a mother named Liza. The story concerns a small child who makes friends with the possessed plaything shortly after moving into Heelshire Mansion. [Coming Soon]
---
Monster Problems
Dylan O'Brien is in talks to star in Monster Problems, a "post-apocalyptic road movie with heart" from director Michael Matthews and producer Shawn Levy. [Deadline]
---
Terminator 6
Terminator 6 has replaced Wonder Woman 1984's November 1, 2019 release date. [Screen Rant]
---
Charlie's Angels
Popular date, November 1, 2019! Sony has decided to release the new Charlie's Angels the same day. [Deadline]
---
Reign of the Supermen
IGN has a new trailer for the animated sequel to Death of Superman.
---
Daredevil
Showrunner Erik Oleson said he's "very hopeful" Daredevil will be renewed for a fourth season at Netflix.
I can tell you that I'm very hopeful to go do a season 4. There has not yet been any kind of an official pick-up, but if there is, I'm very hopeful that I will be a part of it.
---
2018 Arrowverse Crossover
More set pics of Superman's black costume have surfaced online.
---
Star Trek: Discovery
L'Rell actress Mary Chieffo posted a new photo of the updated Klingon make-up on Twitter.

---
The Passage
Fox has dropped a new, extended look at its adaptation of the Justin Cronin vampire novel trilogy.
---
Cloak & Dagger
Production has officially begun on season two, according to Olivia Holt on Instagram.
---
The Chilling Adventures of Sabrina
Coming Soon has new images from the series premiere. Head over there to see the rest.
---
Riverdale
The CW has released an official music video for Josie's performance of "Anything Goes."
---
The Purge
Joe debates the merits of The Purge in the trailer for next week's episode, "I Will Participate".
---
Black Lighting
We also have the trailer for next week's amazingly tilted episode of Black Lightning, "The Book of Consequences: Chapter Four: Translucent Freak".
---
The Flash
Finally, the trailer for next week's episode, "News Flash," sees Barry fighting Nora in the same stadium he battled Reverse-Flash.
---
Banner art by Jim Cooke.