This decade the digital audio revolution has taken us from piracy to the start of an age where we can listen to anything, anywhere. Here are some gifts that let your loved ones do just that.
1. Sonos System, $350-$500:
If you've got more than a few rooms in your abode, there's just no better way to spin your music through all of them than Sonos. All your music, a bunch of subscription services, piped through in any combination, to Sonos speakers, preamps and amps. And controlled through iPhone or iPad apps or a touchscreen controller. And PC compatible. Sonos changed my life this year. [Sonos]



2. Apple TV and other Airplay Parts, (Prices Vary):
Airplay is Apple's Sonos fighter, but it can't do some things well, like play to multiple zones from an iPhone. But it will be part of a grand ecosystem of standalone speakers, receivers, TVs, iPod docks, once it gets off the ground, hopefully, next year. It also will play video content and connect to bluetooth speakers and can already pipe audio from almost any iPhone audio app. Denon has a $1200 receiver, the AVR-3311CI which will get a $50 airplay update later this month and is 3d and media streaming compatible. But I might just connect a $99 Apple TV to your existing stereo to make the most of what you have while the legion of airplay gadgets hits the shelves. Airplay is also a great little step into music streaming and works best if you have a small apartment and just need a quick fix. (Sonos is much more scalable for whole house music, at this time.) [Apple]



G/O Media may get a commission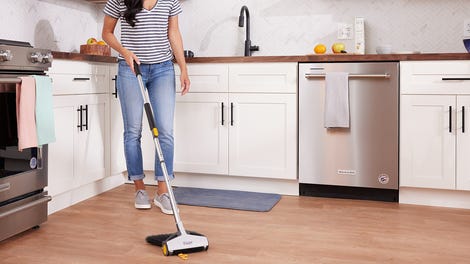 BOGO 50% Off
Flippr - BOGO 50% Off
3. B&W P5 Headphones, $300:
B&W, makers of the legendary nautilus speakers, are generally too expensive for me to enjoy. But B&W's first headphones? Well, they're expensive, too, but at $300, heavenly and refined enough to make a fantastic gift to you or someone you really, really like. They made from leather and metal and sheepskin earcups magnetically attached to the body. Joe Brown wrote a review at Wired before he came here. If you need more convincing these are worth your dime and time, read his praise there.
[Bowers & Wilkins; Amazon]



4. Speakers, (Prices Vary):
Speaker selection is hard. This list of the best under $2000 from our friends at Audiogon makes it easy. [Audiogon]



5. iPhone Apps, $0-$3:
StreamToMe is a neat transcoding app that takes your iTunes library and sends it to your iOS gadget across the network—even across the internet, for $3. Pandora Radio is another must have—and Free.



6. Record Cleaner, $80-$125:
Vinyl gets dirty. This record cleaner washes and dries records in 3 minutes.
[Spin Clean]



7. Geneva Labs M in Walnut, $700:
An iPod dock with a CD player seems unnecessarily…legacy format minded. These cases take more than a few days to construct using traditional woodworking methods. These docks come in piano finishes but I prier the Walnut finish precisely because it reminds me of the expensive mid century vintage furniture I can't really afford. And this dock sounds about three times as large as you'd expect. I tried using one as a desk computer and it was not 5 minutes before I had to relocate it. [Geneva Labs]



8. The Complete Lossless iTunes Beatles Discography, $149:
The Beatles should be in any music library, period. Odds are, your Santa recipient has at least some of the albums already, whether ripped or on discs, but the whole collection via iTunes is a lovely, comprehensive package. The digital box set contains all fourteen albums in gorgeous lossless audio, plus band documentaries and archival concert footage.
[Apple]



9. Technics SL-1200MK2 Turntable, $550:
Beyond being a DJ geek lust item and legendary piece of music history, a classic Technics 1200 table will play your vinyl collection beautifully, and look damn good doing it.
[Technics]



10. Yamaha YSP-5100, $2,200:
Yeah I know, sound bars almost always suck. Not this one—trust me. And we know space might be tight, so this thing still squeezes badass sound out of a thin strip. Two woofers, two tweeters, and 40 individual drivers self-calibrate and bounce sound off your walls and ceiling for surround sound. And of course, the bar supports all the top audio standards— Dolbly True HD, DTS HD, and Digital Pro Logic II. Caveat: wall mounting is probably a must, but really, it'd be worth the effort.
[Yamaha]



11. Acoustic Tiles, $59.39 (Box of 16):
What's the use of having all this delicious audio gear if you're going to get whined at for cranking it? Complain-proof your pal's setup with acoustically-tiled walls (and ceilings!). It's probably easier than you think—each tile can be stuck to the surface of your choice with adhesive spray or double sided tape. It'll take some labor—and more than a few boxes—but the satisfaction of blasting lossless Hey Jude at the end of the day will make it more than worth it. (See some commenter advice below about what these tiles can and can't do, though.)
[Amazon]


The burning sensation that comes from holiday shopping isn't from rubbing against the unwashed masses at malls: It's trying to pick out presents for everybody on your list. Gizmodo's daily gift guides and best gadgets list are the all-natural, non-smelly cure.