Living in space is rife with challenges, among them, grappling with a gaping void of loneliness and dealing with a subpar food selection. Astronauts onboard the International Space Station (ISS) have the unique torture of being so close to Earth, yet so far away from all its tasty delights. But one German company is determined to solve this by bringing our planet's best baked good to humanity's bravest in the final frontier.
Bake In Space is a delicious experiment that aims to create crumb-free bread for astronauts. Bread has rarely flown in space, due to the fact that crumbs can get into equipment onboard the ship or into astronauts' eyeballs. Bake In Space hopes their unique recipe and oven will create crumb-free goodness that everyone can enjoy without the fear of imminent death.
The company plans to launch its experiment—which includes ingredients and equipment for a German bread roll—with astronaut Alexander Gerst, who's heading to the ISS in April 2018. In addition to providing an alternative to dehydrated astronaut food, Bake In Space hopes to provide our friends in space with a taste of home.
"In order to improve astronauts' well being on long-duration missions such as on a Moon base or on Mars, food plays an essential key role," the company wrote on its website. "Besides a source for nutrition, the smell of fresh bread evokes memories of general happiness and is an important psychological factor."
Bakers on Earth hope the mission will open new doors for dessert-making in space.
G/O Media may get a commission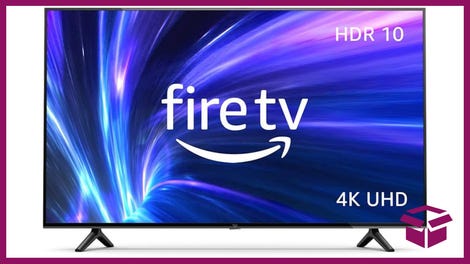 42% Off
Amazon Fire TV 50" 4K Smart TV
"I feel like baking anything in space would be really awesome," New York-based baker Miranda Bucciero told Gizmodo. "I do mostly cake decorating so the concept of trying to frost a cake in space is really cool to think about (and would probably be really funny to watch) but brownies would probably work the best—the dense fudgey/chewy type of brownie."
Food blogger and cookbook author Molly Yeh agreed that cake in space is the ultimate goal. But for the near future, something like an IKEA bread mix could be more feasible.
"All you have to do is add water to the carton and shake it up," she told Gizmodo.
Here's to getting baked in space.
Gizmodo has reached out to Bake In Space for details on their recipe and will update this post should we hear back.