As bad newspapers like to remind us every few years, comics aren't just for kids any more. That's true, but DC's fantastic Batman '66 #1 is for kids, and adults, and probably pets, too. It's awesome, and it leads off a great week of comics including ninjas, dinosaurs, and so! many! vampires!
---
New Issues
Dark Horse:
• The Strain: The Fall #1: Having failed to protect New York City from the vampire plague, Dr. Goodwater struggles to protect his son from his vampire mother.
G/O Media may get a commission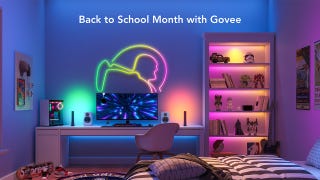 Back to School
Back to School Month with Govee Sale
• Blood Brothers #1: Two vampires who spent centuries together finally get sick of each other's company just as someone tries to kickstart the apocalypse.
• Other releases: B.P.R.D.: Hell on Earth #109, Conan the Barbarian #18, Dream Thief #3, Star Wars: Dark Times: The Spark Remains #1, Star Wars: Darth Vader and the Ninth Assassin #4, To Hell You Ride #5.
DC:
• Batman '66 #1: The return the campy '60s Batman and his villains with the action and epic scope only comics can provide. Imagine the '60s TV series with a modern movie budget and awesome stuntmen — that's what Batman '66 is, and it's so much fun. FYI, by all accounts this is the best digital comic available online, so if you buy the hard copy you're only getting half the experience!
• Justice League of America #6: Trinity War part the second!
• Animal Man #22: Animal Man's newfound fame causes trouble for his family and an opportunity for his enemies.
• Other releases: 100 Bullets: Brother Lono #2, Batman and Catwoman #22, Batman Beyond Unlimited #18, Batwoman #22, Birds of Prey #22, Fables #131, Green Lantern: New Guardians #22, He-Man and the Masters of the Universe #4, Legion of Super Heroes #22, Supergirl #22, Vibe #6, Wonder Woman #22.
IDW:
• The X-Files Season 10 #2: As Scully meets with the mysterious "Deacon" who rescued her, Mulder visits the graves of the Lone Gunmen.
• Dinosaurs Attack #1: Okay. Well, there's these dinosaurs, you see? And they… well, they attack things. I can't explain it any simpler than that.
• Other releases: Colonized #4, Doctor Who Classics #3, GIJoe: Special Missions #5, Half Past Danger #3, TMNT Villain Microseries #4, Transformers: Regereation One #93.
Image:
• Revival #12: Cooper Cypress watches the "Revival Event" go down.
• Elephantmen #50: An Elephantman challenges society's perceptions by leading a quiet life in downtown L.A.
• Other releases: Aphrodite IX #3, Artifacts #29, Invincible #104, Non Humans #4, Prophet #37.
Marvel:
• Thanos Rising #4: The official description: "Thanos kills a lot of people." Huh.
• Nova #6: Nova asks his mom permission to be an Avenger. That's awesome.
• FF #9: POOL PARTY!
• Fantastic Four #10: The official description: "BEN FRANKLIN WAS A SKRULL!" Man, Marvel is doing something right.
• Other releases: A Plus X #10, All New X-Men #14, Avengers #16, Avengers Assemble #17, Cable and X-Force #11, Deadpool #13, Iron Man #13, Morbius the Living Vampire #7, Powers Bureau #6, Savage Wolverine #7, Scarlet #7, Superior Carnage #1, Thor God of Thunder #10, Thunderbolts #13, Ultimate Comics Spider-Man #25, Uncanny X-Force #8, What If? AvX #2, Wolverine Max #9, X-Factor #259.
Other:
• Mysterious Strangers #1: Three heroes try to figure out what the mysterious group named O.C.C.U.L.T. wants with Hidalgo, a nation with no resources, value, or freedom.
• Day Men #1: Fifty "families" of vampires rule the world; these are the adventures of the humans who carry out their will while the sun's up.
• Five Color Comics #1: Over 50 famous artists each draw a single panel using only five colors each to tell an entire story in this bold comics experiment!
• Extinction Parade #1: World War Z's Max Brooks begins his own original comic about vampires, zombies, and the doomed humans caught in-between.
• Other releases: Accelerators #2, Adventure Time #18, Archer & Armstrong #11, Bravest Warriors #10, Damsels #8, Farlaine the Goblin #1, Grimm Fairy Tales #87, Green Hornet: Legacy #39, Harbinger Wars #4, Hellraiser: Dark Watch #6, Higher Earth #8, Numbercruncher #1, Plume #5, Red Sonja #1, Rogues #3, The Shadow: Year One #4, The Simpsons Comics #204, Sonic Universe #54, The Spider #13, Warlord of Mars #26, Watson and Holmes #1.
---
Trade Paperbacks and Hardcovers
Dark Horse:
• The Adventures of Dr. McNinja Omnibus: Over 500 pages of medically trained Irish ninja entertainment, containing the first three hard-to-find graphic novels of the mega-popular webcomic.
• The Legend of Korra: The Art of the Animated Series: Okay, so it's not a comic per se, but we thought you'd like to know that this art book of the phenomenally beautiful cartoon is on comic stores this week.
• Other releases: B.P.R.D.: Hell on Earth Vol. 5: Pickens County Horror, Gate 7 Vol. 4.
DC:
• Black Orchid: After a woman is brutally murdered, she returns as a human-plant hybrid to solve the mystery of her death.
• Batman: The Dark Knight Vol. 2: Cycle of Violence: To defeat the Scarecrow and his newer, more powerful fear toxin, Batman will have to conquer his greatest fear.
• Other releases: Batman: The Dark Knight Vol. 1 Knight Terrors, Superman: The Phantom Zone, Tales of Batman by Archie Goodwin.
IDW:
• The Rocketeer: Hollywood Horror: Cliff battles a mysterious church and his relationship woes with the help of his trusty jetpack.
• Mars Attacks Vol. 2: On Ice: As the Martians debut their devastating freeze ray, a little boy may hold the secret to defeating the aliens.
• Other releases: GIJoe: A Real America Hero Vol. 7, Judge Dredd: Cam Kennedy Collection Vol. 1, Strange World of you Dreams Comics: Meet Freud and Dali, TMNT Adventures Vol. 5, Transformers: More Than Meets the Eye Vol. 4.
Image:
• Think Tank Vol. 2: Dr. Loren willingly returns to the military lab that he only escaped from two months ago, but why?
• Kafka: When his new identity is compromised, Dan Hutton escapes witness protection and returns to the world that nearly destroyed him.
• Other releases: Glory Vol. 2: War Torn, Revival Vol. 2: Live Like You Mean It.
Marvel:
• Deadpool Complete Collection Vol. 1: Deadpool takes on Secret Invasion, Dark Reign, and a surly Wolverine (as if there's any other kind).
• Avengers Assemble: The movie line-up of Avengers join forces with the Guardians of the Galaxy to stop the evil group Zodiac and the cosmic force that's controlling them.
• Wolverine Max Vol. 1: Permanent Rage: After a plane crash takes Wolverine's memory, he gets caught up in a terrorist plot and framed for Sabretooth's crimes.
• Other releases: Avengers Academy: Final Exams, Captain America Vol. 4, Mighty Thor: Everything Burns, Marvel Masterworks Doctor Strange Vol. 6, Ultimate Comics Spider-Man Vol. 4, Uncanny X-Force Vol. 7: Final Execution Book 2.
Other:
• Killer Omnibus Vol. 1: Archaia assembles this hard-boiled French crime comic about a merciless hitman whose crimes may be catching up with him.
• Goddamn This War: It Was the War of the Trenches' Jacques Tardi takes another grim look at the horrors of World War I and then men who died fighting it.
• Kolchak: Necronomicon: The Night Stalker versus the Cthulhu mythos. 'Nuff said.
• Other releases: 07 Ghost Vol. 5, Beirut 1990: Snapshots of a Civil War, Dance Class Vol. 5: To Russia with Love, Eldritch Vol. 1, Flowers of Evil Vol. 6, Grimm Fairy Tales: Unleashed Vol. 1, Gunnerkrigg Court Vol. 4: Materia, Gunslinger Girl Omnibus Vol. 7, Kill All Monsters Vol. 1: Ruins of Paris, Killer Vol. 4: Unfair Competition, Mayo Chicki Vol. 1, Princeless Vol. 2: Get Over Yourself, Walrus, World War Blue Vol. 1.
---
As usual, here's the list of everything being released to comic stores tomorrow, and you can find your nearest comic retailer here.