Painter Hillary White takes classic works of art and throws in familiar characters like Boba Fett, xenomorphs, and Skeletor. The ensuing pieces delight, induce fright, and resemble yard sale kitsch sold in the seventh circle of the underworld.
For example, that's a Sith Lord guest-starring in Italian Baroque painter Domenico Zampieri's famed 17th-century fresco "Virgin and Unicorn." It only gets weirder from here. Much, much weirder.
Perhaps due to their cultural cachet as children's entertainers, the Muppets are a frequent target of White. She places the happy puppets in classic works by Dutch painters and makes them reenact Biblical murder scenes. The artist also seems to favor 1980s movie monsters, what with the Ghoulies, Gremlins, and the Critters getting the gallery treatment.
Here's a sampling of White's work. If you've ever wanted to see Voltron go Impressionist, today is the day.
G/O Media may get a commission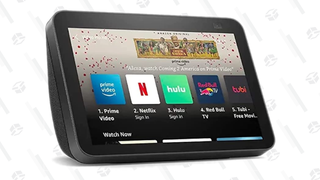 "The Best Supper" (Hans Holbein the Younger's "The Last Supper")
"By The Power of Retribution" (Edward Armitage's "Retribution")
"Better, Harder, Sacred" (Hans Memling's "Madonna And Child")
"Alien The Terrible" (Ilya Repin's "Ivan the Terrible And His Son Ivan")
"Temptation of Robin" (Ary Scheffer's "Temptation of Christ")
"The Garden of Muppetly Delights" (Hieronymus Bosch's "The Garden of Earthly Delights")
"Internet Memes in a Landscape" (Gherardo di Giovanni del Fora's "Chaste Women in a Landscape")
"Wheat Field With Johnny 5" (Vincent Van Gogh's "Wheat Field with Cypresses")
"Beaker Slaying Honeydew" (Artemisia Gentileschi's "Judith Slaying Holofernes")
"Voltron Dans Les Coquelicots" (Claude Monet's "Les Coquelicots a Argenteuil")
"The Death of Brainy" (Jacques-Louis David's "The Death of Marat")
"The Anatomy Lesson of Dr. Bird" (Rembrandt's "The Anatomy Lesson of Dr. Nicolaes Tulp")
"Nightmare at Café Terrace" (Van Gogh's "Café Terrace at Night")
"Whistler's Turtle" (James Whistler's "Whistler's Mother")
"Darthpocalypse" (Hans Burgkmair der Ältere's "Altarpiece of John the Evangelist")
Lambchop, by way of Lucifer in The Divine Comedy.
You can find prints of some of these works at White's Society 6 store. There also many more paintings at her Flickr account, where you can find scenes of Darth Vader fondling Sarah Palin by way of Gustave Courbet (not safe for work) and the Yip Yips channeling Andrew Wyeth (also NSFW, mostly due to soul-scarring Muppet nudity).
[Via Popped Culture]