Two upcoming alien-invasion flicks might have a lot more in common than aliens and a Los Angeles setting. Turns out the directors of Skyline worked on the VFX for Battle: Los Angeles. And Sony is none too happy about that.
Is AI Moving Too Fast? | Future Tech
According to Deadline, the directors of Skyline, the Brothers Strause were both hired, via the special effects company they work for, Hydraulx, to work on Battle: LA. Giving the brothers, who allegedly failed to mention they were currently directing a alien invasion feature of their own, access to Sony's storyboards, plot twists and other important information.
After Skyline, which is about an alien invasion that sucks up humans straight into the sky, debuted its footage at Comic Con and received a lot of hype, Sony Pictures Entertainment was ready to take the issue to court.
The Wrap is reporting that SPE sent a letter to Hydralux the producers of Skyline demanding it cease and desist from using equipment that the studio says it owns.
"We demand you stop breaching your visual effects agreement," the letter reads.The letter also says the studio would not have hired Hydraulx to do special effects had it known about the Skyline project.
G/O Media may get a commission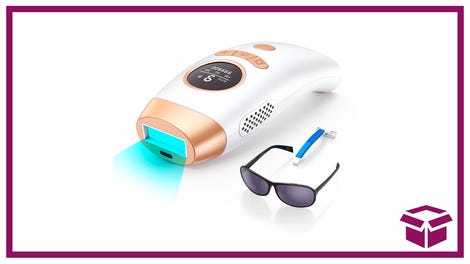 58% Off + Coupon
IPL Hair Removal Device
Hydraulx stated that the claims are "meritless," and that the real issue here is that SPE had no idea Skyline was going to get as much buzz as it did at SDCC. Now, says Hydraulx, Sony is panicking because Skyline is coming out in November, four months before Battle, and they're worried the public will be tired of alien invasion films by next March. The Strause brothers released this statement on the matter:
Any claims of impropriety are completely baseless. This is a blatant attempt by Sony to force these independent filmmakers to move a release date that has long been set by Universal and Relativity and is outside the filmmakers' control.