There are approximately 4 bazillion point-and-shoot camera models on the market. Mostly, borderline disposable—yet the $400 S95 was Amazon's best-selling camera 'til they ran out. Clearly, people want a better camera. These three are the best.
Canon's S95, Nikon's P7000 and Panasonic's Lumix LX5 are the three best point-and-shoots available—compact cameras aimed at pros or at advanced amateurs who want to step up their game. They sport bigger-than-average image sensors, more fine-grained controls and perks like RAW images.
Canon S95
G/O Media may get a commission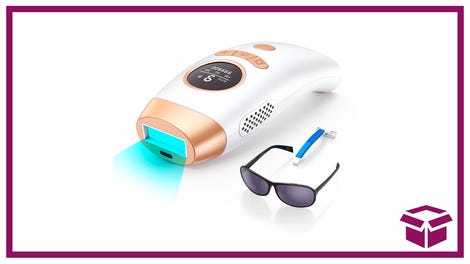 58% Off + Coupon
IPL Hair Removal Device
Canon S95
Price: About $400
When: Now
Sensor: 10-megapixel, 1/1.7-inch CCD
Video: 720p@24fps (H.264)
Lens: 3.8x zoom (28-105mm), f2.0-f4.9
ISO: 80-3200
Display: 3-inch, 461,000 dots
The S95 is everything we loved about the frankly amazing S90—totally pocketable, awesome control ring, fantastic image-quality-to-camera-size ratio, feels great—but now with 720p video. Pictures are still great, and the video's fine, even if we're not blown away by the latter. Photos were the poppiest, warmest and most saturated out of the group (without being unnatural). It's also the easiest to use and most compact of the bunch.

Only around 200 shots per charge at best. The pint size means sacrificing some of the fancier features you'll find on the P7000 and LX5. It also means people with big hands will feel cramped. The old shutter button was bigger and easier to press.
Nikon P7000
Nikon P7000
Price: About $450
When: Now
Sensor: 10-megapixel, 1/1.7-inch CCD
Video: 720p@24fps (H.264)
Lens: 7.1x zoom (28-200mm), f2.8-f5.6
ISO: 100-6400
Display: 3-inch, 921,000 dots
What a fiddly little camera—and I mean that in the best possible way. This is the most "pro" feeling camera of the three. There's a dial (four of them) or button for basically every setting, so you feel like you're in absolute control every single second, without diving into the menu. A viewfinder! Though the screen's so good—double the pixels of the other two—you won't use it. The lens has the best range and the most reach, 7x zoom up to 200mm (or rather, the 35mm equivalent). Pictures seems to have the crispest detail.
It is a bulky mofo. Slower lens is the tradeoff for more zoom. Speaking of slow, the camera's whole software interface can feel getting-a-bill-through-Congress slow. The resemblance it bears to Canon's G12 is uncanny ,and we like rewarding some points for originality. (Or in this case, taking them away for not being so original.) Pictures are the noisiest (at higher ISO settings) and coolest of the bunch. Video is average, at half the bitrate of the S95.
Panasonic Lumix LX5
Panasonic Lumix LX5
Price: About $400
When: Now
Sensor: 10.1-megapixel, 1/1.63-inch CCD
Video: 720p@30ps (AVCHD Lite)
Lens: 3.8x zoom (24-90mm), f2.0-f3.3
ISO: 80-3200
Display: 3-inch, 460,000 dots
This lens beats mad quantities of ass. It's super wide and super fast, all the way through. It's my favorite thing about the LX5, by far. The LX5 handles and feels the best of the three from a hardware standpoint—possibly because it's squarely in the middle on size and number of buttons/dials. There's a crazy amount of control, like multiple aspect ratios, toggled on the lens. It also just looks like a subtle, serious camera. Great photos that seem to thread the middle between the S95 and P7000 on multiple fronts: color saturation, detail and the like.
Pain-in-the-ass AVCHD Lite video format. The lens is killer, but having to deal with the giant protrusion lens cap still sucks, when you'd wanna pocket this cam otherwise. Ugliest, confusing software of the group. Also, the worst display—it was harder to compose than on the S95, because it was harder to see colors and tell what was in focus.
There's a different reason to love each of these cameras, and every one of them pumps out fantastic, reasonably comparable photos, given their size. The fiddler will dig the P7000's mecha-like assortment of external controls; the lens freak won't be able to stay away from the LX5; and the S95, well—that's our pick for the overall best. If you have no idea which camera you want, and you just want the best that you can shove in your pocket and carry everywhere, there isn't a better choice.
You can check out full-size samples of photos and video right here, and for an even nerdier breakdown of these cameras, check out DPReview's in-depth comparison.