Moulin Rouge director Baz Luhrmann is tinkering with the idea of filming a classic futuristic tale, he told io9. We caught up with Baz at his Australia premiere, and he admitted he'd thought about switching from movies set in the past to creating stories set in the future. Baz thinks the future has gotten a bit old-fashioned, but he's got some ideas for spicing it up.
Baz, you've done two movies now looking back on the past do you think that we'll ever see a new project from you that is your vision of the future?
That's a great question – I don't know about the future but I certainly would do something that is set in a contemporary environment. I might throw everything away that I've done and I think in your work you have to refresh your life, and I intend to do that once I've sort of collected my own self again. But it's a good question, I mean, future work, its been very de rigueur, a lot of it, right? Actually there are a few future-projects.... I think if you address it you have to address it in a completely fresh way. It's become a bit old fashioned. I mean the future has become old fashioned. Now is so much more consumed with it now than we ever have been before.
What would you do to make a look on the future fresh?
It would be about the task at hand, it's only about telling the story. You don't have to take a book off the shelf so much as what do I have to convey, and then you invent out. So it's a job. It's something I wouldn't just guess, you know.
Are there any epic futuristic movie that you would like to do, or make or be attached to?
I can. I'm not gonna say it becase I'm actually thinking about one. It's a few classics. I don't want to go there.
G/O Media may get a commission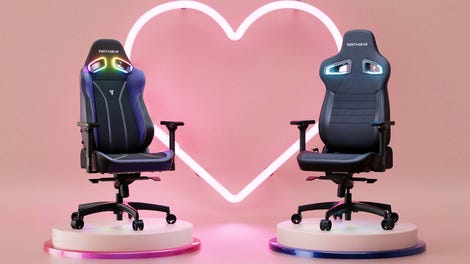 Up to $150 off
Vertagear Gaming Chairs
Q: Just a few hints?
No, it's too easy to guess. I shouldn't 've said it, I really really want to do some music work. Because I love music so much, and I move with everyone you know, I mean, Placido Domingo or David Bowie or Missy Elliot, you know and each one of them it's like, to me the music part of it, collaborating on music, it's the holiday part. That's the party part for me. I think now too there are so many musicals being made, I'd really like to make something that was kind of quick and very contemporary actually, to make my life a little more fun.
Would you make another Sunscreen song for the class of 2010?
I'm glad you find it useful. You know what I actually recorded the run-up to 2009 so I'm fresh out of opening titles, but I like music, I like soundtracks, I did a lot of the work on the music for this film, I had great collaborators, I actually, that gentleman over there helped me write a song with Elton John, a finished film, do some lyrics and that was enjoyable, I loved that.
What can you tell me about the significance of the Wizard of Oz in your new movie Australia?
Actually the film and the shape of it is going down the yellow brick road. It's a journey film, the wizard of oz is a journey film, where someone goes on a journey they meet all sorts of characters and they realize that what they're looking for is really inside. And that's parallel in my film but original something against the wizard of oz, but the aboriginal boy he gets the wizard of oz and his aboriginal religion mixed up. And I think that's a beautiful thing in the world when things get mixed up and make something new and fresh. I used the music to, I can't quite tell you, but it's got quite a special plot significance at the end.
So you heard it hear first — Baz wants to work on a classic futuristic movie, or is toying with the idea at least. I'd love to know what you guys think. My wonderful intern Liz suggested Jules Verne-esque remake that focuses on a side plot (and I think she's spot on). I'm all for a Twenty Thousand Leagues Under the Sea Baz musical with opulent lights and lush backgrounds.