This Saturday (June 20th) Sloan Fine Art in New York will be featuring these oil paintings of beautiful women wearing headphones and only headphones.
Jonathan Viner, the artist, calls the collection harem, and the pieces are oils on 12"x12" panels.
G/O Media may get a commission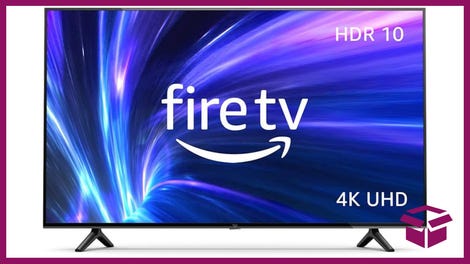 42% Off
Amazon Fire TV 50" 4K Smart TV
[Sloan Fine Art , Prints available through store.vinerstudio.com]
JONATHAN VINER: "HAREM"
Exhibition: June 20 through July 18, 2009
Reception: Saturday, June 20th, 4 to 6pm

With "Harem" Jonathan Viner touches on a variety of issues including the urge to possess rare specimens and organize them into collections, the intense but fleeting power of youthful beauty, and the growing appetite for material and status in a globalized world. Never one to be too heavy handed, he prompts the viewer to consider these topics with elegant subtlety.

On its surface, "Harem" is a group of ten portraits of young Russian women, each one apparently alone, nude, and listening to vintage, high fidelity headphones. Upon further consideration, the tight, close up compositions, leash-like headphone chords, and ambivalent facial expressions give us a sense that these women are perhaps unwilling captives. But their relaxed postures, soft surroundings, and vague facial expressions convey an atmosphere of calm and comfort. This contradiction is embodied by the headphones themselves, which isolate and tether these harem girls while simultaneously providing them with enriching, faithfully reproduced sounds.

Each work stands alone - a solitary, frozen specimen. But when presented together, with their uniform size and similar palette, within the confines of a small space, they convey the feeling of a coveted collection.

A native New Yorker, Jonathan Viner earned his BFA from Rhode Island School of Design. This project will be his third solo exhibition in New York.

Running concurrently with "Harem," in the front gallery, is "+2" a group show with small works by 66 artists.