Sure, we didn't get to see the Avengers: Infinity War footage that wowed Hall H in San Diego this weekend—but we do get a tiny glimpse at the movie in the form of this truly spectacular three-part poster Marvel had at the convention, giving us our first look at Earth's mightiest heroes, the sinister threat they'll face, and his glove with glowy lights.

Painted by Marvel Studios Head of Visual Development Ryan Meinerding to give out to fans at Comic-Con, the three posters merge together to depict an epic image, as seen above, but it's definitely worth getting a better look at each individual poster:
The third and perhaps most interesting poster actually gives us our first look at some new looks amongst the Avengers seen in the footage—notably an adolescent Groot, Black Widow's blonde hairdo, and Captain America's rugged, beardy visage:
G/O Media may get a commission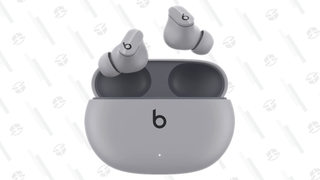 Finally, here's the whole thing stitched together into one truly spectacular image:
Oh my. It's almost as good as getting to see the footage! Almost.