An epic heat wave has created a stunning reverse in the frozen fortunes of the Bering Sea. The sea ice ringing the Arctic normally expands until at least late February and often through mid-March.
But sea ice there has plummeted to a record low for this time of year, creating an unheard of ice-free pathway through the Bering Strait, which separates Russia and U.S. We have broken the Earth.
As one of the more southerly seas in the Arctic, the Bering Sea tends to have more variable sea ice extent in winter than its chillier neighbors. Powerful storms can roll through the region, mixing up the ocean and preventing ice from forming or breaking what's there. But what's happening right now is unprecedented, with sea ice standing at just about a third of its normal extent for this time of year.
Warm, moist air has sent temperatures soaring in the region up to 36 degrees Fahrenheit above average for this time of year. A huge ridge of high pressure camped out over Alaska and the Pacific has taken a further toll and shunted more warm air into the region, spelling doom for ice.
G/O Media may get a commission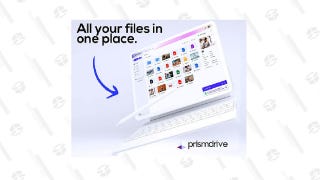 Save 97%
Prism Drive Secure Cloud Storage: Lifetime Subscription
"Strong, southerly winds have essentially crumbled and pushed the sea ice poleward toward the main Arctic Ocean basin," Zack Labe, a University of California, Irvine PhD candidate, told Earther in an email.
While the wild variability in the Bering Sea means that sea ice could come crawling back if the heat wave subsides, this is still an incredibly dire situation for ice. And because the melt has been so intense and widespread, it's had knock on effects on ice in the neighboring Chuckchi Sea.

"It's worthwhile to also note that some open water has pushed into the Chukchi Sea," Labe said. "This is very unusual. As far as I can tell, only once (1989) has the Chukchi Sea had a dip in sea ice extent during mid/late winter. The last two days have shown a small dip in Chukchi ice extent (more than 1989)."
The sea ice shenanigans here and in other seas across the Arctic have the region on track for its lowest sea ice maximum on record. There's currently 580,000 square miles of ice missing across the Arctic Ocean and various seas. University of British Columbia climate scientist Simon Donner put it in very Canadian terms:
We're still crawling (in theory) toward the annual sea ice maximum in the next month or so. Labe said that it's possible the Arctic could surprise us with some cold weather and a last minute sea ice growth spurt but it's "more likely than not we set a new record low max" for the fourth year in a row.