The weekly Thank Giz It's Friday lists are about unwinding and having fun. I hope you have enjoyed reading them as much as I have enjoyed writing them. Here is the best of the bunch.
Is AI Moving Too Fast? | Future Tech
•10 Sex Toys That Are Confusing and Wrong (NSFW): A roundup of NSFW toys that are pointless, vulgar, confusing and (in some cases) scary.
G/O Media may get a commission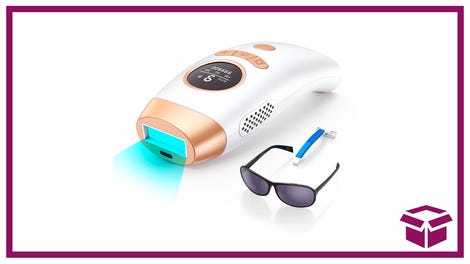 58% Off + Coupon
IPL Hair Removal Device
•10 Gadget Get-Ups For Guys That Don't Mind Looking Like a Tool: This is a gadgety fashion guide for guys secure in their geekyness.
•10 Gadgets That Transform Your Bathroom Into a Home Office: Studies show that Americans like to take their work into the bathroom. I'm just giving you guys what you want.
•10 Gadgets That Will Trip You Out Without Drugs: Who needs drugs when there are gadgets that can tap into the psychedelic potential of your brain?
•10 Gadgets That Provide Perpetual Pleasure: These gadgets can simulate a pleasurable experience on demand.
•10 Gadgets For Instant Portable Partying: Big plans for the weekend? Everyday can be the weekend with these gadgets.
•10 Gadgets That Make You Less Physically Repulsive: These gadgets can get you cleaned up, toned up and *ahem* beefed up for the ladies.
•10 Gadgets For Guys That Hate to Cook (But Love to Eat): These gadgets help you eat like a king at home with as little effort as possible.
•10 Gadgets That Help You Survive In Cheap Hotel Rooms: Traveling this holiday season? These gadgets can help you stay alive even in the most disgusting hotels.
•10 Gadgets For Winter Fun: From Snowball Guns to Ice Saunas: These gadgets help you make the most of the wintery weather.