The National Chicken Council and some Republican lawmakers want to kill rules that limit how many chicken carcasses poultry plants can process per minute, and they're hoping President Donald Trump's disdain for Obama-era red-tape will help them feed America's growing bird-blood lust.
In the midst of rising US demand for poultry, the chicken industry is lobbying hard for the US Department of Agriculture (USDA) to permit chicken processing plants to abandon current inspection line restrictions that only allow plants to process 140 birds per minute—or about two birds a second—according to a report from NBC News.
The lobbying group created a petition last month calling the 140 limit "arbitrary" (which sounds strangely familiar), and requesting that plants be able to "operate at any line speed at which they can maintain process control." The petition suggests that deregulating line speed would help Trump in his quest to reduce "regulatory burdens on the industry" and "make the federal government more efficient."
Big Chicken previously pressed the Obama administration to speed up inspection lines, but the USDA policy remained, thanks to efforts from workers' rights and food safety advocates who raised concerns that the changes would harm workers and lead to more cases of contamination.
But Representative Doug Collins, who represents a Georgia district with many chicken processing plants, is siding with the National Chicken Council, chasing the notion that slaughterhouses and processing plants need such regulation. In a recent op-ed for The Hill, he wrote that liberals concerned about conditions in poultry plants must still think the industry operates in the landscape described in Upton Sinclair's The Jungle.
G/O Media may get a commission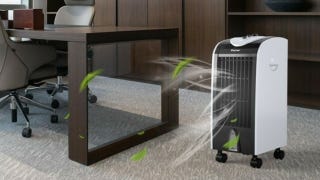 Save $10
Evaporative Portable Air Conditioner Cooler with Filter Knob
"The conditions are safer now because we have laws that were written because of the Upton Sinclair era," Patty Lovera, assistant director of Food & Water Watch told Gizmodo. "We have laws that say that the government will be in plants and they'll look at every bird and they'll look at every carcass. The industry loves taking shots at those rules. And that's what this is. You're taking animals apart and that's messy and you have to do that carefully."
National Chicken Council spokesperson Tom Super told Gizmodo that the plants that would have quicker line speeds would have higher food safety scrutiny and government oversight than plants with slower speeds. "We've had 20 plants operating at higher line speeds for almost 20 years as part of a USDA pilot project to modernize poultry inspection" Super said. "Over that time, the data consistently show that those plants perform on par or better in terms of worker safety and food safety."
But Lovera said Food & Water Watch is skeptical of the data collected from those plants. "We look at those too. We have to FOIA the agencies to get the data," she said. "The US Government Accountability Office has criticized the pilot project that the USDA is basing that on. They've criticized it for the way that they collect the data and the analysis they did. We're not convinced that the data backs it up."
The National Chicken Council also claims that the part of the line that would be affected by speed increases has been largely automated, so worker safety should not be much of a concern. But several work-safety organization like the United Food and Commercial Workers (UFCW) International Union still believe increased line speeds would endanger workers. "As you must know, poultry workers hold some of the most dangerous and difficult jobs in America. The implications of this rule change are striking," Marc Perrone, president of the UFCW, wrote in a letter to Carmen Rottenberg, the acting deputy under secretary for food safety at the USDA.
Compared to the average private industry worker, poultry workers have double the chance of getting seriously hurt at work and six times the chance of getting sick, according to OSHA.
[NBC News]