Well, here goes. RIM is announcing its new BlackBerry 10 OS and hardware today. This could be the launch that gets RIM back in the game for smartphones. Or it could be the last time BlackBerry is relevant. It's a big moment.
We'll be covering everything about BB10 and the new hardware right here, in one place. Some of what RIM will show today has been seen in demos and previews and leaked shots, but there will be plenty of new stuff to chew on as well. RIM has a lot to prove today.
Some of the things we expect to see are details about the new Z10 phone like pricing and carrier availability, news about the state of the BB10 app store, a bunch of nerdy IT talk about how the new OS will fit into existing systems, and maybe some news about the forthcoming Qwerty models. Maybe a few features of the OS that haven't been shown off yet, too. We're ready to be surprised, though, since this is such an important event for RIM, and it might have a few tricks up its sleeve.
The event started at 10AM EST, and we'll be updating this post live throughout the presentation. (We just had to get through 20 minutes of commercials and cheerleading about BlackBerry.)
G/O Media may get a commission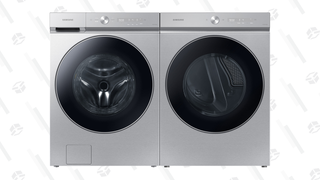 Get $500 back in credit
Last Chance: Samsung Bespoke AI Washer and Dryer Preorder
It's All BlackBerry Now
The first major announcement is a big one: RIM is now BlackBerry. It's changed its name to make it one brand. Thorsten Heins, the BlackBerry CEO, has been talking about how totally rebuilt the whole company has been over the course of BB10's buildup.
Hardware
The new BB phones are called the BlackBerry Z10 and the BlackBerry Q10. We're updating with details as we have them.
The Z10 has a 4.2 inch 1280 x 768 356PPI screen (same resolution as the Lumia 920), a textured back, comes in black and white, and it looks a lot like the renders that we've seen to this point. It's got a 1.5GHz processor, 2GB of RAM, 16GB of internal storage (microSD storage up to a 32GB card), NFC, and LTE. The camera is 8MP and shoots at 1080p, but those are standard specs and the quality of one 8MP camera phone to another varies wildly. Front-facing is a 2MP with video capabilities.
Thorsten Heins also said that to avoid fragmentation, the resolutions of the Z10 and Q10 would not be changed going forward. All BlackBerry phones for the foreseeable future will have the same two resolutions.
The Z10 will be on AT&T and Verizon. The price will be $200, on a THREE YEAR CONTRACT. That is a big deal, as more people are drifting toward pre-paid plans, and since three years on a phone contract is basically unheard of. Verizon's materials say two years, but Thorsten was very certain when he said three, multiple times.
T-Mobile and Sprint will also be involved with BB10, but we're not certain which phones they will have.
Release dates will be in the "middle of" March for us (due to carrier testing, which is more stringent in the US), but Canada will get the phones on February 5. The UK gets it tomorrow.
The Q10 has a physical Qwerty keyboard. It's got a 3.1-inch 330PPI screen and a similar design to the Z10. Details are scant, but Throsten says to expect it in April.
Software
We've moved into the software demo now, and BB is showing the new BlackBerry Flow, which is more or less like Éxpose, but it resizes the content to make it make sense as you're using it—no tiny type in the windows.
You can also use the Hub feature, which is like a superpowered Notification Center, by just swiping from the left side of the screen to reveal everything you've done recently or any new messages. BB is really focusing on how easy it is to use one-handed.
The integrated sharing and social networks looks really good. Tweets and LinkedIn (which was not shown in the demos we saw, but is a natural fit) and Facebook messages show up right in BB Hub, without going into an app or browser.
Profiles in your contacts pull information so that you've got social network connections, contact info, work information, and times you've had calendar events together. And you can do all this from the Hub. It's the kind of integrated, first party support that everyone's trying to nail right now, and BlackBerry 10's looks really promising.
Typing
Typing on BlackBerry phones is a hugely important part of the experience, and the swipe-to-autocomplete/predict is a much more intuitive way to predict words than putting them in the bar above the keyboard. You can also switch the predictions between three separate languages at a time (from a larger selection).
And a big feature is that you can swipe to the left to delete a whole word, and swipe down to access punctuation, which is actually an awesome and great feature.
BlackBerry Balance
A big feature of BB10 is the ability to have a Work and Personal account. You just swipe down to oggle between the two profiles.
Your work account can be controlled by your IT manager, who can push apps or updates to it or even wipe it, without affecting any of your personal data. The store accounts and other stuff like BlackBerry flow are tied together in a smart way that doesn't leave content you want stranded if you want it.
BBM
BBM is a hugely important part of BlackBerry's experience, and the big announcement is that it's getting video calling (in the presumed absence of a Skype app Nope! Skype's on BB10.). But the more interesting detail here is screen sharing, which lets you share your whole phone's screen with someone you're video chatting with. This could be good for showing pictures to friends or showing your mom how to do something, but also for presentations on the business end.
BlackBerry Remember
Remember is a whole new app that lets you save basically anything to it. Web pages, emails, documents, etc., can all be saved with notes, due dates, and voice notes. It's basically an Instapaper for everything on your phone. In fact, Evernote is actually integrated too. We're not sure if the webpages will be stored offline, but even if it isn't, the emails and documents alone being first party is hugely encouraging.
Camera
The big thing BB is pushing about its camera is that it's using time shift to capture images 10 miliseconds both before and after you take the photo. The camera recognizes faces, and lets you pick out the best version of your fiends' faces. It's nice, but there are other options out there for this on competitors phones, and have been for a while.
The picture editor is fairly advanced for in-app phone software. You can add filters by swiping, and crop using a simple grid tool that you can drag and rotate using gestures.
BlackBerry Story Maker
Story Maker is an app that lets you edit together a video consisting of photos and videos you've taken, set to music. Think a BlackBerry version of iMovie that lets you easily access all your media. Seems neat, but probably won't be used very often.
BlackBerry World Apps
BB10 is launching with 70,000 apps, which is a pretty good number for a new store, but the news here is that there are some confirmations of big apps that were in the air: Skype, Amazon, WhatsApp, and SAP. Skype is the big deal there, since it was the holdup for a lot of people coming onto BB10.
BlackBerry's New Creative Director
Uhh, BlackBerry hired Alicia Keys.