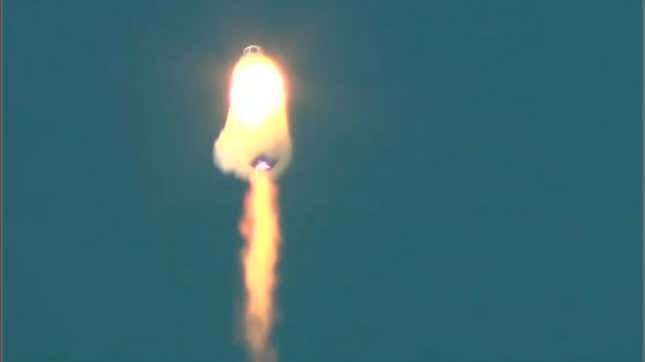 Months after Blue Origin's New Shepard booster went up in flames, the company released a report pinpointing the cause of the rocket anomaly that halted its operations.
Following its investigations into the rocket failure, Blue Origin identified a "thermo-structural failure of the engine nozzle" as the reason why its uncrewed New Shepard rocket suffered a failure in September 2022, the company wrote in a press release on Friday. The nozzle on the booster's engine overheated as a result of increased temperatures that caused "thermal damage and hot streaks," according to Blue Origin.
Jeff Bezos's private space venture will be taking corrective actions and implementing design changes in hopes that it will get to fly its rockets again soon. The Federal Aviation Administration had suspended launches of New Shepard following the rocket failure but Blue Origin "expects to return to flight soon," the company wrote in its press release.
Blue Origin wants to re-launch the same payload that was on the New Shepard rocket when it went up in flames. Luckily, the capsule that was attached to the rocket employed its escape system, bringing it down, along with NS-23 payloads, to safety using a parachute.
The New Shepard rocket launched on September 12, 2022, carrying 36 payloads, more than half of which belonged to NASA. About a minute after liftoff, the New Shepard booster exploded mid-flight, and its capsule abandoned ship. The booster failure happened as the rocket was traveling in excess of 700 miles per hour (1,130 kilometers per hour) and while it was 29,000 feet (8,840 meters) above the ground.
The incident marked an unusual anomaly for an otherwise dependable rocket, which has performed six crewed flights since July 2021. New Shepard normally escorts people to the edge of space, with the crewed capsule reaching an altitude of 60 miles (100 kilometers) above the surface before returning back to Earth with the help of a parachute.
The booster failure may have led to New Shepard being grounded, but Blue Origin seems determined to get its rocket booster back off the ground for round two of trying to deliver its scientific and technological payloads.
 For more spaceflight in your life, follow us on Twitter and bookmark Gizmodo's dedicated Spaceflight page.