For almost as long as there has been Star Trek, there have been Trek comics. Offering stories too expensive, epic and, often, stupid for the series, here're some of the comic's high- (and low-) lights.
While Star Trek's original comic run, which lasted from 1967 through 1978 from publisher Gold Key, may have often seemed like the work of people who has never seen the show (In part because its artist had really never seen the show; he was working off publicity shots and his imagination the whole time), it had a certain charm; look at the image at the top of this post, for example, and tell me that you don't wish that you'd seen it happen in the TV show, just to watch William Shatner acting like a man under voodoo attack. Mostly, though, the charm was that the stories were goofy; not for nothing is Chris Sims' list of The 11 Most Ridiculous Moments In Star Trek Comics mostly made up of Gold Key stories (Especially that awesome shower scene). But when Star Trek: The Motion Picture was released, the comics started appearing from Marvel and DC, and being worked on by fans... and that's when things started to get good. Or, at least, goodesque. Unconvinced? Keep reading.
The Stories The Movies Should've Done
Don't get me wrong; I loved the original Star Trek movies as much as the next man - Well, aside from Star Trek V, obviously; I have some taste - but DC's 1980s comics did manage to tell a couple of stories that really should've been coming soon to a theater near you. For example, the Mirror Universe Enterprise invading our reality:

Yes, that's right; Evil Kirk just slapped Regular Kirk's face. Just to show how evil he is. There was also the pre-Star Trek VI "Trial of James T. Kirk," in which our favorite Starfleet Captain has to deal with finding out that the price of intergalactic peace with the Klingons is going on trial for thirty years of recklessly disobeying orders, complete with cameos and shoutouts to numerous episodes of the original series. Hey, it could've been a warm-up for Boston Legal.

G/O Media may get a commission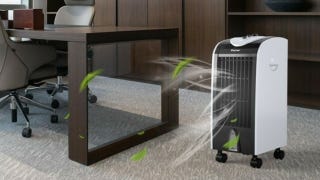 Save $10
Evaporative Portable Air Conditioner Cooler with Filter Knob
The Stories The Movies Couldn't Have Done
The comics were also, often, home to stories too small for the movie screen... which often translated as "stories about characters other than Kirk or Spock." For example, Doctor McCoy meeting up with the daughter who'd rejected him:

Or a Harold Pinter-inspired (No, really) look back at Scotty's love life, complete with awkward, unconvincing accents:

We were also given the final tale of the Enterprise's original five year mission, the return of Kirk's dead son, spotlights for Uhura and Sulu (Alas, Chekhov always kind of got the shitty end of the stick even in the comics) and all manner of Klingons, Romulans and Vulcans. The comics even managed to almost give Saavik a personality. Almost.
The Stories That No-One Should've Done
Okay, admittedly, it wasn't all gold. Occasionally, there would still be the occasional clunker. Like, for example, this:

Worst of all would be when creators would try and recapture the whimsy and sense of wonder of the original series and fail badly. After all, Tribbles are one thing (sadly), but there's never any excuse for gnomes:

Let's move on quickly, shall we?
The Guest-Stars! The Guest-Stars! The Guest-Stars!
Of course, one of the benefits of making Trek without actors is that you can always get the guest-stars that you want, regardless of whether they're available. For example, here's "Sweeney," a bounty hunter who was pretty much just John Cleese with goggles:

The guest stars didn't even need to be alive; here are some famous historical figures about to beat the crap out've the Enterprise crew:

Not that every historical figure advocated violence, of course:

More than anyone else, though, Trek comics allowed guest stars that would be impossible without ridiculous and unconvincing amounts of technology. I mean, here's 1960 William Shatner meeting 1980s William Shatner:

Or what about the 1960s Enterprise being helmed by Jean-Luc Picard?

That said, it doesn't get any better than this:

If JJ happens to be reading this, all I'm saying is: Imagine the box office if you managed to make a movie that crossed Trek over with the X-Men franchise. Hell, never mind the money; imagine the lens flares.