The coolest thing about Neill Blomkamp's Elysium was the drop-dead-gorgeous visuals. And the movie could have featured even more eye-popping vistas of the space station. We've got an exclusive look at some early concept art from designer George Hull, showcasing the spaceship hangar and other areas.
Last week, we brought you some exclusive concept art from the film and interviews with some of the designers, and now here's some more. George Hull is a frequent collaborator with the Wachowskis, whose work we've featured before. And he was brought in to Elysium to fill some gaps in Syd Mead's design work. George explains:
I was contacted in 2011 by Neill & Co. to help design some large scale environments for the film. He said he spent a year concepting at Weta but there were still several big sets that were untouched.

I was about to start on the [Wachowskis'] film Jupiter Ascending but I had several weeks open — so I jumped at the opportunity to work with Neill again. I actually designed a massive robot factory for a Nike superbowl commercial for him years back.

So when it came to huge scale sets, I suppose that is why he turned to me. And even though Syd Mead designed the overall look of Elysium, there weren't any images for the sub strata/ cavernous environments, robot factory, or the deportation bay. All were really cool sets descriptions that I was elated to chew on. The great artwork by Syd and the Weta crew was inspirational as well.
Given the short time I had available and the speed of VFX in production, I only got 1 or 2 passes on blocking and layout of each set. Once Neil liked the direction, I was moved onto the next set piece! Kent Matheson and his team at Image Engine used my sketches as a starting point to evolve final models into their beautiful VFX shots. As always, things change, but the front end heavy lifting from a blank sheet is my favorite part of the process. I like seeing artists early sketches, so hopefully people will enjoy my art even though it is mostly blocking work.

I would have loved the time to do a proper detailed design overlays and a sexy painting pass for each set, but regardless I was honored to have been called in for the film. Hope you all go see the movie and have as much fun as I did!
Here's a bunch of George Hull's high-res art for those huge, stunning sets. Check out a bunch more over at his website.
G/O Media may get a commission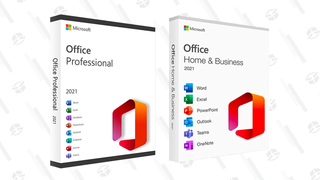 89% off
Microsoft Office Professional 2021 Lifetime License