Neil Basu, Britain's top counter-terrorism official, announced on Wednesday evening that a couple poisoned in the county of Wiltshire appear to have been exposed to Novichok, the Soviet-era nerve agent behind the poisoning of former double agent Sergei Skripal and his daughter Yulia in Salisbury earlier this year.

According to the Guardian, authorities first believed that 44-year-old Dawn Sturgess and 45-year-old Charlie Rowley fell ill on Saturday due to "drug-related" causes. However, as their condition worsened, hospital staff turned to experts at the nearby Porton Down science park who confirmed Novichok exposure:
The initial police view was that drugs caused Sturgess and Rowley's severe illness. But that view started to change and in the early hours of Wednesday and a major incident was declared when health officials and police became alarmed at the couple's symptoms and were unable to pinpoint the cause.

Tests were carried out by scientists at Porton Down, which is expert in spotting nerve agents. Scientists there concluded a nerve agent was responsible, the same type used to attack the Skripals.
"This evening we have received test results from Porton Down that show the two people have been exposed to the nerve agent Novichok," Basu told reporters.
The Soviet Union first developed Novichok agents, which are believed to be much more powerful than more famous chemical weapons like VX and sarin, in the 1970s and 1980s. The name translates to "newcomer."
G/O Media may get a commission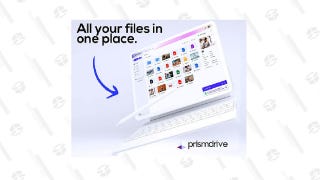 Save 97%
Prism Drive Secure Cloud Storage: Lifetime Subscription
According to Reuters, "Moscow is not believed to have ever declared Novichok or its ingredients to the Hague-based Organisation for the Prohibition of Chemical Weapons (OPCW),"and the US suspects it generated the agent in secret for years:
Russia was once believed to possess thousands of tonnes of weaponized Novichok varieties and their precursors, according to a 2014 report by the U.S.-based Nuclear Threat Initiative, a non-partisan group working to reduce the threat of weapons of mass destruction.
Sturgess and Rowley were residing "barely eight miles" from the site of the original poisoning, according to the Guardian. It remains unclear whether they could have been exposed to the same batch of Novichok as the Skripals, though an extensive, months-long cleanup effort involving 200 military personnel began in April. The Guardian added that Basu warned against panic, cautioning that authorities had no evidence the two visited any of the previously decontaminated sites.

The Russian government denies all involvement in the poisonings and has floated a number of self-exonerating theories such as a breach of security at Porton Down. However, many in the West have become suspicious about a string of over a dozen deaths on UK soil widely speculated to be linked to Russian security services or organized crime.
Russian officials have also insisted that Novichok agents are not stable and degrade quickly, meaning there would be minimal risk of detection by British authorities or exposure weeks after the incident—though Brigham and Women's Hospital in Boston toxicologist Peter Chai told the Verge such agents are "really oily so they persist in the environment." They are also extremely potent, with the survival of those exposed beyond the short term suggesting the agents were either low quality or haphazardly administered.

As noted by Deborah Haynes, the defense editor for the Times, the most likely explanation for the subsequent poisoning is that they came into contact with remaining residue from the Skripal attack.
Per the Guardian, authorities currently have no reason to suspect that anything in Sturgess or Rowley's backgrounds would lead them to be targeted.
[Guardian]