With footage of Robin Williams' World of Warcraft tribute NPC emerging yesterday, we're reminded that the worlds we love can ensure that icons of pop culture, as well as their fans, can live on forever. Here's some of the times that games, TV shows, comics and movies have paid tribute to those no longer with us.
Header Image: Memorial site for Blizzard fan Anthony Ray Stark, located in the Eastern Kingdoms in World of Warcraft. Image via Wowhead.
7. Katie Johnson - The Clone Wars
G/O Media may get a commission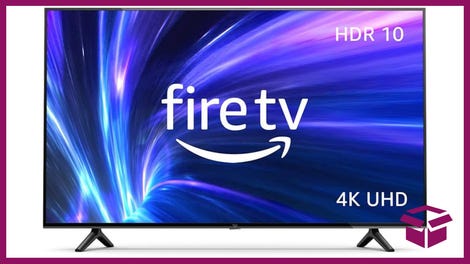 42% Off
Amazon Fire TV 50" 4K Smart TV
Originally a real-life tribute to Katie by her father, Albin Johnson (founder of the 501st Legion cosplay group), R2-KT was a pink Astromech Droid built shortly after Katie died in 2005 after suffering from Brain Cancer. The droid went on to appear at charity events, Star Wars Conventions and Children's Hospitals throughout the US before being immortalised in The Clone Wars, appearing in the original Movie based on the series and several episodes of the first season.
Another pink Astromech, QT-KT, made several appearances in Season 5 in lieu of R2-KT, when writers were concerned that viewers would confuse R2-KT's name with R2-D2.
6. Sean Smith - EVE Online
One of four victims in an attack on the US Embassy in Benghazi two years ago was Sean Smith, an official within the US State Department - but to players of the hardcore Space MMO EVE Online, he was better known as 'Vile Rat'. Part of the infamous 'Goonfleet' collective of players, Smith's influence on the events of EVE Online were profound, to the point he was elected to the game's player run Council of leaders multiple times.
Shortly after his death, players and friends gathered in an area of space in EVE's universe called Tribute, to share stories and thoughts about Vile Rat - before using a series of in-game items to light 'candles' spelling out his name in the stars. His character's name was also included on developer CCP's monument to EVE's players built in Reykjavik earlier this year.
5. Richard Attenborough - Jurassic World
Although not originally planned as a memorial - filming had started on the movie before Attenborough's death last week - this statue of Richard Attenborough's character from Jurassic Park John Hammond comes from the set of the latest movie in the series, Jurassic World. It's a touching way to not only honour the legendary British actor, but the character of Hammond as well.
4. Ralph McQuarrie - Star Wars Rebels
Although not a direct tribute to the iconic Star Wars concept artist, it's hard to mention the art design and overall aesthetic of Disney and Lucasfilm's upcoming animated series Star Wars Rebels without noting its huge debt to Ralph McQuarrie.
McQuarrie's trademark touch is all over the show's concept art, as well as the style of the matte paintings used in the show's background scenes - but it doesn't stop there. The show itself is packed with nods to him little and large, from the way the base of Kanan's lightsaber beam flares out a little (as they all did in McQuarrie's art), to the most obvious influence of all: Zeb Orrelios, one of the show's Rebel protagonists, shares McQuarrie's original design for Chewbacca.
3. 9/11 victims - Marvel Heroes
Image via Comic Book Justice
Comics have rarely shied away from referencing hard hitting real life events, but perhaps none were so profound as the industry's reaction to the September 11th Terrorist attacks in New York. Released in the December following the attacks, Marvel Heroes' striking series of textless poster images depicting the mirror between the company's own roster of superheroes alongside members of the NYPD, Fire department and other first responders were met with huge critical support in and out the Comics industry.
The company would go on to release a second poster series, entitled A Moment of Silence, shortly after - but it was Marvel Heroes that struck the strongest chords with the public, with sales proceeds going towards the Twin Towers Fund. 13 years later, it remains one of Comic Book's most heartbreaking interactions with real life events.
2. Elisabeth Sladen - The Sarah Jane Adventures
Doctor Who fans young and old were united in grief in 2011 when Elisabeth Sladen, who played the beloved companion Sarah Jane Smith, suddenly passed away. Sladen had crossed the boundaries of both the classic and revived versions of the show, including her own modern-day spin off series for CBBC, The Sarah Jane Adventures - ensuring her remembrance by new generations as well as the ones who grew up with her and the Third and Fourth Doctors in the 1970's.
It was her own show rather than Doctor Who that would provide her most touching memorial. The fifth series, which was partially filmed by the time of the actress' passing, was broadcast shortly after her death, and ended with a montage of scenes accompanied by V.O from the actress, as well as the promise that 'the story goes on forever'. It's heartwarming to know that whilst Sladen is gone, Sarah Jane Smith herself, and all her adventures, will last forever.
1. Brad Bridenbecker - World of Warcraft
Blizzard's fantasy MMO might just be the the biggest collection of Pop Culture memorials - over 10 years the company has honoured multiple celebrities, employees and fans in the game (Wowhead has a good compilation of many of the tributes). Although there are many, none are perhaps quite so touching as the story of Crusader Bridenbrad from the game's second expansion pack, Wrath of the Lich King.
Brad Bridenbecker, whose brother Robert worked for Blizzard as Vice President of Online Technologies, was an avid WoW player before he passed away in 2007 following a four year battle with cancer. When his brother asked the company if there was anything that they could add into the game, they responded with the Tale of Valor quest line, which symbolically depicted Brad's (Christened Crusader Bridenbrad in the game) struggle with the disease. The 5 part adventure culminates with Bridenbrad ascending to 'The Light' - Warcraft's religious equivalent to heaven - finally at rest.
If you know of any more pop culture tributes, please post them in the comments section.
---
You're reading Toybox, io9's new blog for all things pop culture. From merchandise to awesome fan creations, TV recaps and critical commentary on the hot topics of the day, you can find it all here!