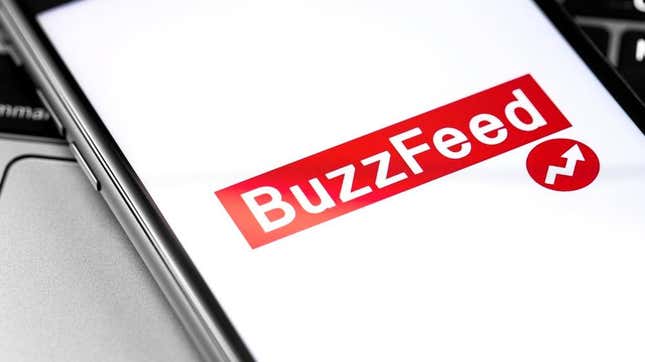 BuzzFeed News is closing.
CEO Jonah Peretti announced Buzzfeed is closing in a company-wide memo to staff on Thursday: "We are reducing our workforce by approximately 15% today across our Business, Content, Tech, and Admin teams, and beginning the process of closing BuzzFeed News." The cuts will affect roughly 180 employees.
Google's Antitrust Case Is the Best Thing That Ever Happened to AI
"I could have managed these changes better as the CEO of this company and our leadership team could have performed better despite these circumstances," Peretti wrote. "I made the decision to overinvest in BuzzFeed News because I love their work and mission so much."
BuzzFeed News' final push notification read, "BuzzFeed News is logging off with a reminder that blippi pooped on his friend," referencing its investigation into a famous YouTuber, Blippi, who makes videos for young children but who once pooped on a man in a "Harlem Shake" video.
Peretti said his company will be focusing its news efforts on HuffPost, recently acquired, which has proved to be more lucrative than BuzzFeed News, according to Peretti's email: "Moving forward, we will have a single news brand in HuffPost, which is profitable, with a loyal direct front page audience."
"While layoffs are occurring across nearly every division, we've determined that the company can no longer continue to fund BuzzFeed News as a standalone organization," Peretti wrote.
He also told staff that the Covid-19 pandemic, the tech industry's recession, the declining stock market, and reduced digital advertising all contributed to the decision.
Although BuzzFeed News is closing, the company will continue to operate media operations on its other platforms, and Peretti said cost-cutting measures will take effect including closing several of its New York City and Los Angeles offices, reducing its budget, travel, and "most other discretionary, non-revenue generating expenditures."
According to the memo, some BuzzFeed editors and reporters will be redistributed to other areas of the company in accordance with their skill set, while the company's CRO Edgar Hernandez and COO Christian Baesler will also be leaving BuzzFeed within the coming weeks.
The company recently began experimenting with having artificial intelligence write its viral quizzes.

Founded in 2011, BuzzFeed's news division won multiple awards in the course of its dozen years, including a Pulitzer Prize in 2021 for an investigation of Uyghur detention in China. The outlet also received the George Polk Award and the National Magazine Award.
BuzzFeed News' shuttering comes on the same day as Insider announced it would lay off 10% of its employees, including unionized writers. Like BuzzFeed, the business-focused outlet announced it would start experimenting with AI last week.