When TiVo and ReplayTV launched in 1998, you had only one other real choice when it came to set top boxes. It was called a VCR. Now there's Roku, Apple TV, Chromecast, Nexus Player, Fire TV, and all sorts of others. But first, there was TiVo. Now, the company is leveraging that pedigree with Bolt.
Bolt essentially replaces its former entry level system, the Roamio-S, and it's equal parts a hefty spec increase, the biggest being added 4K playback, as well as a suite of new software features. It's also got a crazy new design that's functional (it's cooling vents are under that raised hump) as well as smaller than the Roamio by about a third.
The Bolt still does all the TiVo-y things you're familiar with. You can record Live TV, set up a OnePass for your favorite shows, and most importantly, skip commercials. The Bolt just does them smarter.
TiVo's long been a slayer of unwanted TV commercials. With Bolt, the company is launching SkipMode. The way it works is if you watch a SkipMode-enabled channel (around 20 or so at launch) between busy primetime hours (around 4pm to 12am ET), TiVo will create a SkipMode of your recorded content. When you eventually sit down to watch that missed episode of Walking Dead, a small icon will appear on the top left of your TV screen. Click the corresponding button on your TiVo remote, and bam—you skip all the commercials instantly.
G/O Media may get a commission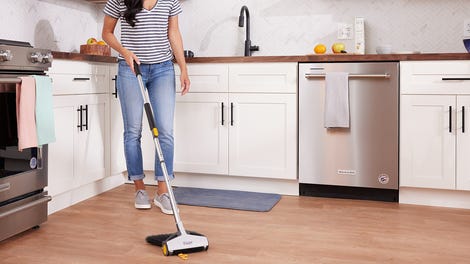 BOGO 50% Off
Flippr - BOGO 50% Off
Other nifty software features include QuickMode, which lets you watch shows at 1.3 times the speed with pitch corrected audio. In other words, no chipmunk voices. In the brief demo I saw, the audio wasn't the real problem with QuickMode—it was the awkward blocking as people moved just slightly faster than they should. But hey, if you got someplace to be, I guess.
Last is what TiVo calls OneSearch, a one-stop shop for finding what you want to watch, whether recorded, live, or streaming episodes and movies already on monthly services you subscribe to like Netflix, Hulu, HBO via VOD or Amazon. It's also integrated with Xfinity and Cox VOD libraries if you happened to be chained to those TV providers.
All this newness, along with added customization benefits to TiVo's companion Android and iOS apps, and Bolt puts the company in a solid battle stance against whatever set tops Google, Apple, or Amazon might dream up—or at least until Tim Cook's vision of television comes true.
You'll be able to get a 500GB unit for $300, a 1TB one for $400, and a $150 TiVo Mini can extend your TiVo service to more TVs in your home.
Maybe Bolt will help us remember when TiVo was king.