A US company has sold nearly five tons of genetically-engineered Atlantic salmon fillets in Canada, marking the world's first sale of GM fish for human consumption. Skeptics of the futuristic food are crying foul, citing ecological and health concerns, but government scientists say folks eating the modified fish have nothing to worry about.
Late last week, AquaBounty Technologies announced that it had sold its GM salmon filets to unnamed customers in Canada after receiving approval from food and health authorities. The engineered fish grow much faster than typical fish, are more resilient to cold temperatures, and require fewer resources to bring to maturity.
"This quarter marked two milestone events for AquaBounty—the purchase of our first commercial farm site for the production of our eco-friendly AquAdvantage Salmon in the United States and the very first sales of AquAdvantage Salmon," noted the company in a statement. "The sale and discussions with potential buyers clearly demonstrate that customers want our fish, and we look forward to increasing our production capacity to meet demand."
To make these fish grow faster, the salmon have been endowed with a growth hormone taken from Pacific chinook salmon, and a gene taken from ocean pout (a weird, eel-like fish that has antifreeze proteins in its blood). Together, these interventions produce a higher concentration of a growth hormone in the Atlantic salmon's blood, causing the fish to grow twice as fast as normal; the engineered salmon can reach an adult size in just 16 to 18 months, compared to 30 months for unmodified salmon. AquaBounty says these fish consume 20 to 25 percent less food per gram of new meat produced, greatly reducing production costs.
G/O Media may get a commission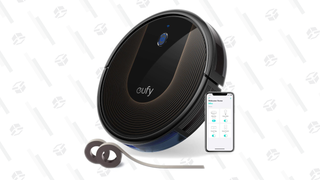 48% Off
Eufy BoostIQ RoboVac
These fish are raised in tanks, but to prevent them from escaping into the wild, only sterile females are raised for harvest.

Critics of the new salmon say the product is being marketed without warning labels, and that Canadians are unknowingly eating it.
"No one except AquaBounty knows where the GM salmon are," said Lucy Sharrat of the Canadian Biotechnology Action Network (CBAN) in a statement. "The company did not disclose where the GM salmon fillets were sold or for what purpose, and we're shocked to discover that they've entered the market at this time."
Canadian law does not require mandatory labelling of GM products, and CBAN has taken it upon itself to "track GM foods to keep Canadians informed." The advocacy group says grocery stores should commit to keeping the GM salmon off its shelves, and praises Costco and IGA Quebec for saying they won't make the product available to their customers.
In a statement issued last year, Canada's Health Ministry and Canadian Food Inspection agency said Canadians have nothing to worry about:
The AquAdvantage Salmon has undergone separate safety and nutrition assessments by Health Canada for use as food and by the Canadian Food Inspection Agency (CFIA) for use as livestock feed. These reviews both found the salmon to be as safe and nutritious as conventional salmon. The assessments complement a regulatory environmental and indirect human health risk assessment for AquAdvantage Salmon that Environment and Climate Change Canada (ECCC) had asked Fisheries and Oceans Canada (DFO) to conduct in 2013. Later that year, informed by DFO's risk assessment, ECCC indicated that the company could proceed with its plans to produce sterile GM salmon eggs for sale, in land-based commercial grow out facilities in Canada. Canada is not the first country to approve this product for use as food and livestock feed. In November 2015, the AquAdvantage Salmon was approved by the United States Food and Drug Administration following the Agency's scientific safety review.
The ministry adds that GM foods are becoming more common every day, and that they're already part of the regular diets of Canadians. By changing the genes of plants and animals, manufacturers can improve food quality and production, "for instance by reducing the need for pesticides, making crops resistant to drought, preventing bruising, or allowing foods to be grown more quickly," the ministry stated. And a 2016 report from the US National Academies of Sciences, Engineering, and Medicine states that genetically-engineered foods are no different from conventional foods in terms of the risks to human health and the environment.
Since 1994, about 85 GM foods have been approved for sale in Canada, including food grown in Canada and products imported from abroad. GM foods do not have to be labelled in Canada, but some manufacturers choose the label "GMO free."
As noted by Canada's Health Ministry, the FDA has already ruled that AquaAdvantage's salmon is safe, so it's only a matter of time before this product appears on American store shelves.

We've requested samples of the AquaAdvantage salmon for a tasting. We'll keep you posted should the company send us a batch.

[Nature News, AFP via CTV News, New Scientist]