Five years ago, I was broke, but I needed a great camera anyhow. The Canon S90 was the perfect fit for my needs and my credit card balance. And I wasn't the only one who thought so. The amazing S90 and successors made Canon a mint — at least until Sony's RX100 came along with higher quality images. With the G7 X, Canon is striking back with specs, plus a little bit of the charm that made Canon compacts so easy to love in the first place.
What is it?
Basically, a juiced version of Canon's S-series pocket point-and-shoot camera aimed at enthusiast camera buyers who've flocked to Sony's RX100 instead. It's one of an increasingly small number of cameras that takes way better pictures than your smartphone without weighing you down like a giant brick. It looks like a larger Canon S120, which in turn looks almost exactly like the S90 I bought five years ago. But now it's packed with a 20-megapixel 1-inch image sensor just like an RX100. Besides taking wonderful photos, the G7 X offers a few features Sony doesn't, including a more versatile lens and touchscreen controls. At $700, the Canon's price sits neatly between Sony's $650 RX100 II and the $800 RX100 III.
G/O Media may get a commission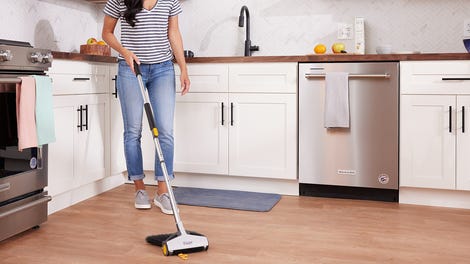 BOGO 50% Off
Flippr - BOGO 50% Off
Design
The G7 X's design doesn't mess too much with the formula Canon expertly evolved. It's a sturdy black metal block with a lens bulge on the front. Aside from a few plastic spots for wireless signals to pass through the chassis, it's an all-metal build.
As with my trusty S95 and the RX100 series, the customizable lens ring is the defining physical trait of the camera. The ring rotates in clicks, rather than smoothly like a focus ring. That makes it very good for changing settings, like aperture size, in precise intervals, but it also makes manual focus hard to use on the fly. There's are a limited number of controls accessible from the camera's buttons and dials, but it's very much a point-and-shoot.
Where Canon's camera immediately steps ahead of Sony is in how far its lens can zoom. The 24-100mm f/1.8-2.8 lens gives you 4.2x magnification compared to the RX100 III's 24-70 mm f/1.8-2.8 lens, which only has 2.9x optical zoom. Yet both cameras are roughly the same size, and Canon has maintained the same wide aperture. It's probably not enough of a difference for you to miss a picture with the Sony, but it's still an impressive feat of engineering by Canon.
And then there's the G7 X's beautiful and impressively responsive capacitive touchscreen. The back panel flips up a full 90 degrees for selfies, much like the RX100 III. Notably, the G7 X flips up so smoothly it makes the articulating designs on many other cameras feel janky by comparison. The downside is that the the G7 X's doesn't flip down at all, so I wasn't able to easily shoot from angles over my head.
The camera has a palm-size design, and since the RX100 is the all-important comparison, I'll note that, yes, it's ever so slightly larger than the RX100. But they're just about as portable. Both cameras travel fine in your pocket, but you'll feel your jeans squeeze if you end up sitting on a bar stool.
For my taste, the Canon hardware is slightly more ergonomic, particularly due to a nice thumb rest on the back. But also, the buttons on the G7 X are way, way better. They're solid and poke out from the body for a nice firm press. By comparison, the RX100 buttons are flush and squishy.
Finally, it's probably worth noting that while the RX100 II has a hotshoe, and the RX100 III has a built-in viewfinder, the G7 X has neither. I would like a hotshoe.
Using it
The G7 X feels like a polished shooter from the second you hit the power button. It starts up without choke or pause, and if your settings are ready to go it's firing frames or shooting video just about instantaneously. It's faster than just about any other camera I've ever used.
And this gets at why I think the G7 X is a special camera. Cramming an image sensor into a tiny package isn't the challenge so much as making that package something that you actually want to use. The G7 X doesn't just have powerful guts, it makes you a powerful photographer by giving you faster, easier controls.
After you've fired up the camera, if you're not on the right settings, changing them on the G7 X is about as easy as it gets. Twin dials, a D-pad and buttons can quickly get you most anywhere you'd want to go, and I've actually always been impressed with the quick Function Set menu that pops up on Canon point-and-shoots. I think it's faster than the dashboard on either of the current RX100 models.
In the event that you really need to dive deep into menus, Canon makes that easier too: the touchscreen display organizes shooting settings into just three big categories you can scroll through quickly rather than the endless folders that tend to be favored by today's feature-packed cameras.
And though I don't find myself using the touch shutter very often, being able to drag the focus point around the screen to the exact location you want is useful. And indeed, the touchscreen is nice when you just want to reach out and touch a setting to change it, instead of using arrows and buttons to scroll around. You can also use it to silently pull focus when shooting video.
I don't have any complaints about the G7 X's autofocus or white balance. Both were accurate and easy to correct for on the fly. In terms of metering, I appreciated that the camera has a dedicated exposure compensation dial on the top which makes it easy to adjust for shots that are obviously too dark or too bright.
Until now, I've mostly just spoken to the G7 X's handling and hardware because that's a big part of what makes it special. But though I'm just getting to it now, the camera's image quality is very good. The images are sharp and detailed, on par and occasionally better than what I can get with an RX100 from Sony. And I was surprised how good the noise looked even all the way up at ISO 6400. At ISO 1600, the photos are pretty much noiseless, and even at ISO 3200, the photos are excellent. At ISO 6400, the noise starts to get a little overwhelming but even there, in a pinch, you could still use them.
ISO 3200. Not a beautiful photo. But it's noiseless!
To put that into perspective, broad daylight shooting is a piece of cake, but in a dark bar or our cavernesque office, you still can get nice photos. You don't need to push much past ISO 3200 because the image stabilization keeps your shaky hands from blurring photos even at slow shutter speeds down to 1/15th of second.
The G7 X takes solid video, as you can see in the quick test below. The low-light is shot at ISO 3200, rolling shutter isn't too too bad, although, in the outdoor shot you see quite a bit of aliasing distortion on the brick buildings. Still, it's edged out by the RX100 II and III. When we put them head to head in a comparison test, they handled better in low-light.
Finally, a note about Wi-Fi. The camera's built-in connectivity works for easily transferring photos to your phone, assuming you'll ever get around to that, and I like that the camera remembers devices it's been paired for before so that it's faster and easier to connect. Still, some functionality is still missing from Canon's CameraWindow app. For example, I can view the roll of photos that are stored on the camera from the phone, but I can only send them from the camera.
Like
Wonderful construction and handling makes the G7 X a pleasure to shoot with. The touch screen is a really nice touch for a camera this size. Excellent image quality on par or better than anything else like it.
No Like
For people who want to focus manually the lens ring isn't ideal. No hotshoe means no flashes or other accessories you might want to use. The video quality is surpassed by the RX100 II and III.
Should I Buy It?
Yes. And that's saying a lot. The RX100 line the camera competes with is incredible, and I would rather buy the G7 X anyhow. Mostly, this is because I like the solidly built, well-designed hardware that makes using the camera a pleasure. Sure, there are some downsides that might point you in another direction, like the lack of a hotshoe, and the better video quality on Sony's compacts.
As I mentioned before, though, the G7 X is more than just a solid camera, it's well-designed and executed to the point where it feels special. It gives me that satisfied feeling I had all those years ago when the S90 nailed exactly what I needed. Except now, it's a contender again.
At $700 this isn't a camera for everyone. It's not even a camera for a casual photographer, if we're really going to be honest about it. The G7 X is going to get you better photos than your smartphone, yes, but in reality, it's for someone who is serious enough about their photos that they're going to take the time to compose them. Those who plunk down the cash will be rewarded with lovely images.
Product images by Michael Hession